Welcome to the beautiful land of Cappadocia, the jewel of Anatolia! 
If you were to ask what places in Turkey you must see, Cappadocia would be in the top 5. This is a spot frequently visited by both local and foreign tourists. The natural wonder of the Fairy Chimneys and hot air balloon rides play a huge role in this. 
The city greets you with a riot of colours. In terms of geography, it has a unique beauty that you cannot find anywhere else. Its architecture is also beautiful. The first churches of Christianity, underground cities and villages that preserve their old texture… In other words, even just walking through its streets brings lots of wonders, and history comes alive for you. It is said that Kapadokya was also an inspiration for Gaudi's La Sagrada Familia. 
Reminder: To explore Cappadocia step by step with your digital tour guide, don't forget to download Piri Guide! 
Cappadocia is located in the Central Anatolian Region of Turkey. The city contains an area that touches most of the provinces in this region. Nevsehir, Kayseri, Kırsehir, Aksaray and Nigde are all part of present-day Cappadocia. The rock sites of Cappadocia Region include the places you will hear more often during your trip: Uchisar, Urgup, Avanos, Goreme, Derinkuyu, Kaymakli, Ihlara and its surroundings.
There are flights from some cities to Kayseri Airport and Nevsehir Airport. The airport can provide access to many other areas such as Nevsehir, Goreme or Urgup with its bus service. From here, you can take a bus or a taxi. It is also possible to rent a car to travel to Cappadocia. Therefore, those who arrive at this point will not have much trouble with transportation.
When to Go to Cappadocia?
Everyone you ask will say that the best time to visit Cappadocia is in the spring or fall time. The weather is more tolerable in these months. Of course, you have the chance to visit there in a colder month. But there is one thing that cannot be argued: Cappadocia is reaaally chilly when it is winter. Nevertheless, it must be admitted that the Fairy Chimneys look so beautiful in their winter white that they warm your heart! If you are the type who says, "I can deal with the cold, a scarf and a coat will do their things." you can come in the winter, as well 😊
Where Does the Name of Cappadocia Come from?
You may have heard the beautiful-sounding name of Cappadocia as "The Land of Beautiful Horses". But what does the Beautiful Horses have to do with this place? Some believe that the word "Kapatuka" in Persian, which refers to the first domestication of horses in Anatolia, gave this place its name. However, according to some studies, the name Cappadocia comes from the river Kapadoks that feeds the Kızılırmak. If you go in May, you can see that the Kapadoks River is still flowing.
The Formation of Cappadocia's Fairy Chimneys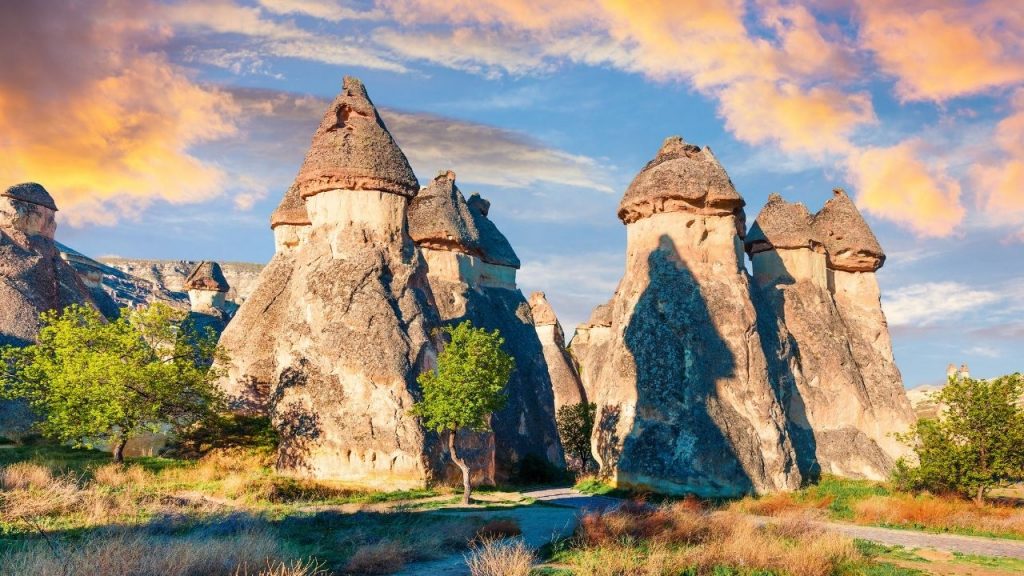 The Fairy Chimneys of Cappadocia were formed over millions of years through a combination of geological processes. The region is composed of volcanic rocks that were deposited and solidified over time. The area was then subject to intense erosion from wind and water, which shaped the rocks into the towering and unique chimneys that are visible today. The top layer of rock is harder and more resistant to erosion than the layers beneath it, which has contributed to the formation of the distinctive cone-shaped chimneys.
Where is the Best Sunset Spot in Cappadocia?
If the weather is clear, Kizil Çukur, near Ortahisar, is one of the ideal places to watch the sunset in Cappadocia.
What to Eat and Drink in Cappadocia?
The Cukurova region of Cappadocia is a cold storage. Lemons, apples, and oranges are stored underground here. Therefore, if you visit Cappadocia especially in the summer months, be sure to try an ice-cold lemonade.
Pumpkin Seeds and Dried Nuts or Fruits
The Cappadocia Region is also famous for its pumpkin seeds. We recommend trying them roasted in milk, especially in Urgup, Avanos, or Goreme. In addition to pumpkin seeds, Cappadocia is also famous for its various dried fruits, especially in Urgup.
Where to Stay in Cappadocia?
There are many areas in Cappadocia where you can stay. Most of them are cave hotels with a cave concept. We can say that these cave hotels bring the present and the past together. 
Some of the areas where you can stay in Cappadocia are:
The Cappadocia's Urgup Region is more advantageous in terms of transportation. Therefore, families often choose this spot. However, the cave houses and the valleys in the region also make Goreme one of the most preferred accommodation spots.
Exploring the Top Attractions in Cappadocia
We've made a list of must-visit places in Cappadocia. Yet, we should remind you that you can find more on Piri Guide mobile app. Piri Guide detects your location, offers you the best travel routes, and starts telling you the hidden stories of wherever you are. All you have to do is to get your headphones or earbuds and follow the path at your own pace. Then, don't set out for your trip before downloading the digital travel guide!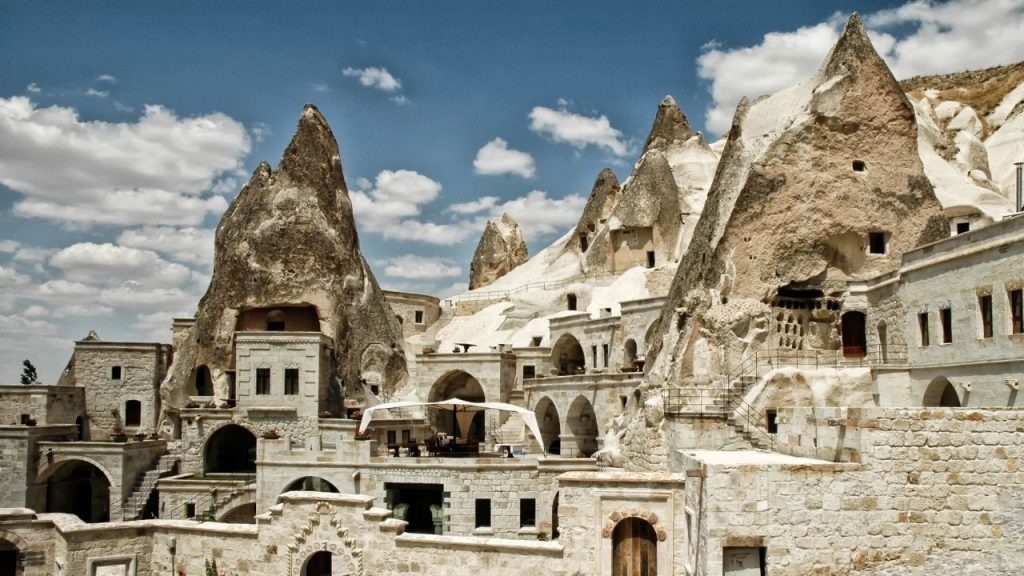 Did you know that Goreme Open Air Museum is the third most visited museum in Turkey, along with Topkapi Palace and Istanbul's Hagia Sophia?
Cappadocia gained more importance during the early Christian period of Anatolian cultural history. That's why you'll see many churches as you explore Cappadocia. For example, the Goreme Open Air Museum has unique churches such as Santa Barbara Church, Elmali Church, Yilanli Church, Cirakli Church, and Tokali Church.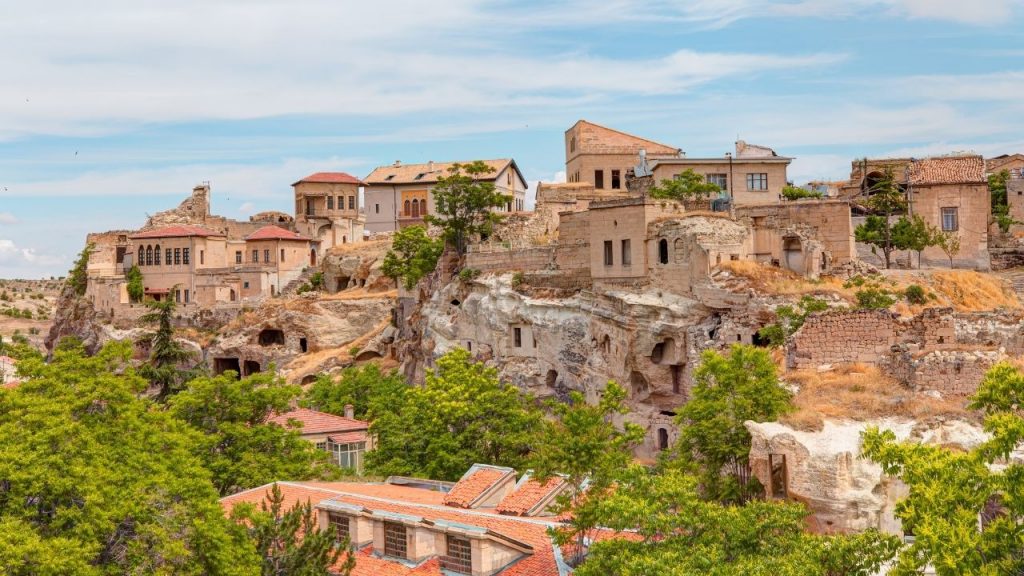 Even though the current name of Sinesos is Mustafa Pasa, the name "Sinesos" is still frequently used. This town is one of the wealthiest and most interesting towns in Anatolia. What makes it interesting and wealthy is that it used to be the centre of caviar trade. As soon as you step here, you will encounter the richness of every mansion and square, which comes from this caviar trade.
The largest church of Sinesos, the Church of Constantine and Helen, is located in the village square. The frescoes and icons in the church have not survived to this day. However, the figures on the outer facade and the cross motif at the top have remained.
Rock Castles: Uchisar and Ortahisar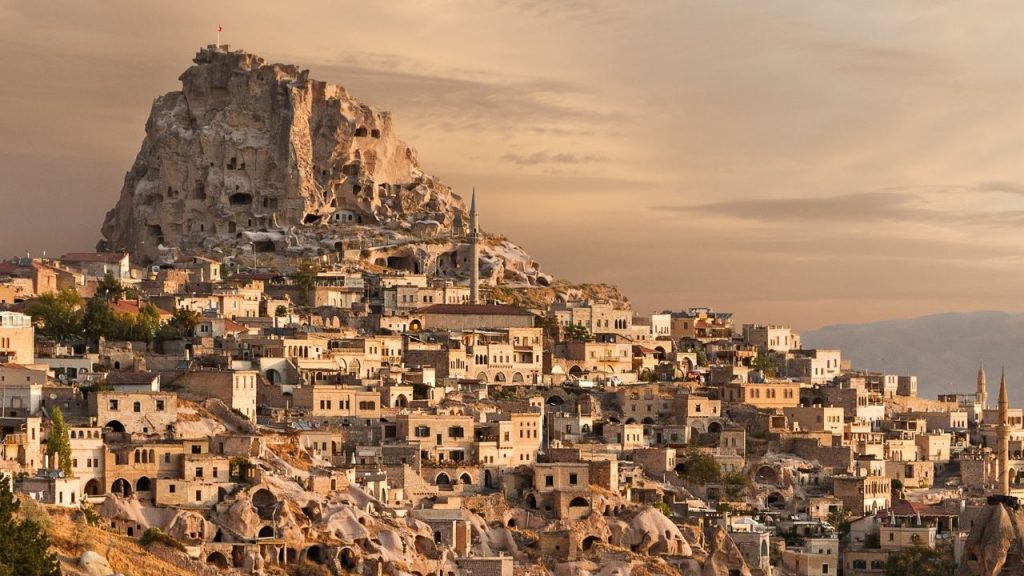 The Uchisar Castle in the town of Uchisar is the only castle in the world made by carving a natural rock layer. It was built by people who escaped Roman oppression during the Early Christian Period. Some of the believers began to live in underground cities. The other part made this castle out of rock that you see.
There is another rock castle 9 kilometres away from the Uchisar Castle: Ortahisar. Ortahisar is a castle half the size of Uchisar. In fact, a 9-kilometer tunnel connecting these two castles was built. Why do you think such a 9-kilometer tunnel was needed? Well, because the aim was for the people to pass through the tunnel to the other castle in case the other one was invaded.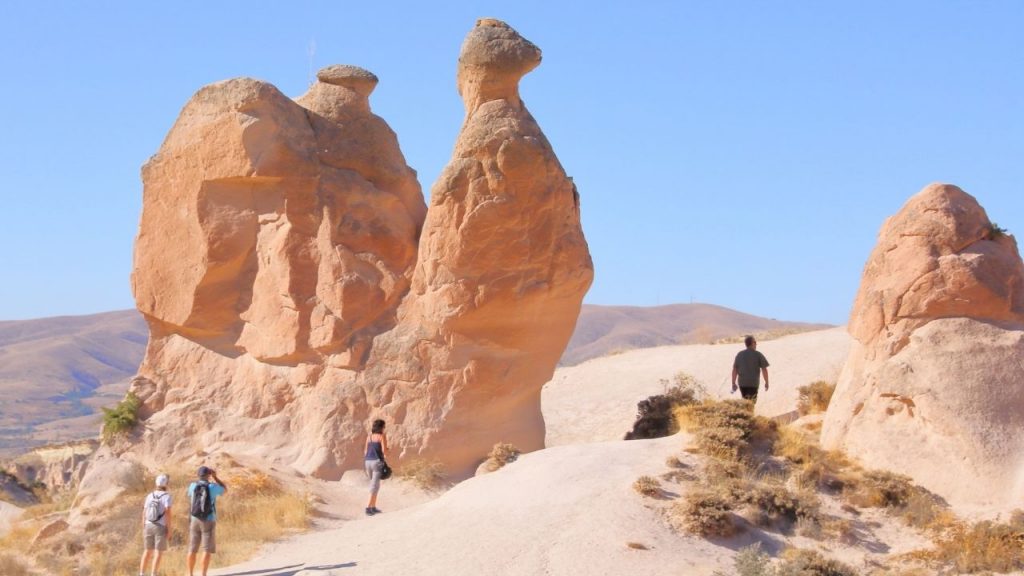 Devrent is actually an Arabic word. Arabs used to call difficult places to pass through "devrent". There are many valleys called by this name in Anatolia. There used to be life in Devrent Valley. As evidence of past life, you can see small windows and footprints here. The humidity in Cappadocia is almost zero. Therefore, people used to use the region as a cellar.
What will attract your attention most in Devrent Valley is the different shapes. For example, the shapes of a camel with two humps, Mary and the seal, which have not been created by human hand… Of course, you can interpret them differently. It depends entirely on your imagination.
Cappadocia is a work of art made by nature itself. Nature and human-made worlds have come together so beautifully! If you want to discover more, you can download Piri Guide right away.