When one thinks of Dublin and Ireland, the first thing that comes to mind is the Vikings. Dublin, the capital of the Viking world and the largest city in Ireland, has roots that stretch back a thousand years to the ancient Celts.
The Irish have struggled throughout history with war, famine, and poverty. They have endured great suffering but have never lost hope. It is perhaps no coincidence that some of the most influential thinkers in the world have come from this country. Samuel Beckett, George Bernard Shaw, W.B Yeats… We must not forget the renowned author James Joyce, who has focused on Dublin in his works. As Joyce said, "When I die, Dublin will be written in my heart."
Reminder: To explore the city of writers Dublin step by step with your digital tour guide, don't forget to download Piri Guide! 
Where Does the Name 'Dublin' Come From?
Although the meaning of "Dublin" has not been definitively established, it is thought to have derived from the Gaelic "Dubh Linn," meaning "black pool." You may be wondering, "Why a black pool?" This actually refers to the Liffey River that flows through the city. The still water in the river has a black appearance that fits its name.
Dublin is the capital of Ireland and is located on the island's east coast in the Leinster region. The city is situated at the mouth of the Liffey River and is surrounded by the Dublin Mountains to the south and the Wicklow Mountains to the east. It is also the hub of culture, economy, and education in Ireland.
To go to Dublin, you can fly to the city's airport, which is the busiest airport in Ireland and offers flights to many destinations worldwide. Dublin Airport is positioned in the north and is about 10 kilometres away. Dublin buses operate regular services from the airport to the city and vice versa. Alternatively, it is possible to take a ferry to Dublin Port, which is located near the city centre and provides regular ferry services from the UK and continental Europe. Once in Dublin, you can use the Luas tram system to travel around Dublin towns.
If you want to experience Dublin's lively nightlife and cultural events, we recommend coming between June and August. During these months, the city hosts many outdoor events and festivals. Consider the sunny weather, and you'll have a great trip! However, if you don't like crowds and don't mind the chilly weather, wait for the spring. In this way, you'll be able to avoid big groups of tourists and find more affordable accommodation options. Also, bring your umbrella because you never know when it might rain in Dublin 🌂 🌧
As Dublin is a large city, there are many neighbourhoods where travellers can stay. The city centre, Temple Bar, and St. Stephen's Green are among the most popular areas. They are suitable for accommodation because they have many restaurants, pubs, and shops. Other popular spots for visitors include:
Ballsbridge

Ranelagh 

Donnybrook
These three districts are mostly residential, and an extra advantage is that they are close to the city centre.
Take a Bite of Dublin: A Journey to Irish Cuisine 🍻
When it comes to eating something in Dublin, the first thing that comes to mind is bangers and mash, or in other words, sausage and mashed potatoes. It may seem simple and easy, but this combination is a traditional dish that is quite common in Ireland and Great Britain and is prepared with onion sauce.
Don't be fooled by its name since it is not an ordinary pudding. Irish black pudding is a sausage made from pork blood (sometimes beef), fat, and oatmeal. Some might say that this is a great meal for vampires 🧛 Lots of foodies are likely to approach it with second thoughts. Still, we should say that it's a very different and tasty food with many admirers.
Boxty is a pancake made with potatoes. Grated potatoes are mixed with flour, baking powder, and milk in this food. Originally, boxty is served as a side dish with meals, but it can also be eaten on its own. Some also prefer to eat it with cheese or boiled vegetables on top.
P.S. While discovering the amazing tastes of Ireland in Dublin, don't forget to try the famous black beer in its hometown 🍻
Must-Visit Places in Dublin
With its rich history and culture, Dublin is an incredibly vibrant city. That is why it would not be hard to list soooo many reasons why you should visit here. But don't worry; we will not bore you with an endless list! Yet, it is our duty to warn you about mischievous little creatures in Dublin. Yes, we are talking about the leprechauns! If you encounter one of them, hide your beers! They kind of have the tendency to steal 🥴
Until the leprechauns come, it is best for you to download the Piri Guide and take a walk in the city with Pat Liddy, who is also a Dubliner and the creator of the most widely used Dublin Tourist Map. Piri Guide detects your location, offers you the best travel routes, and starts telling you the hidden stories of wherever you are. All you have to do is to get your headphones or earbuds and follow the path at your own pace. Then, don't set out for your trip before downloading the digital travel guide!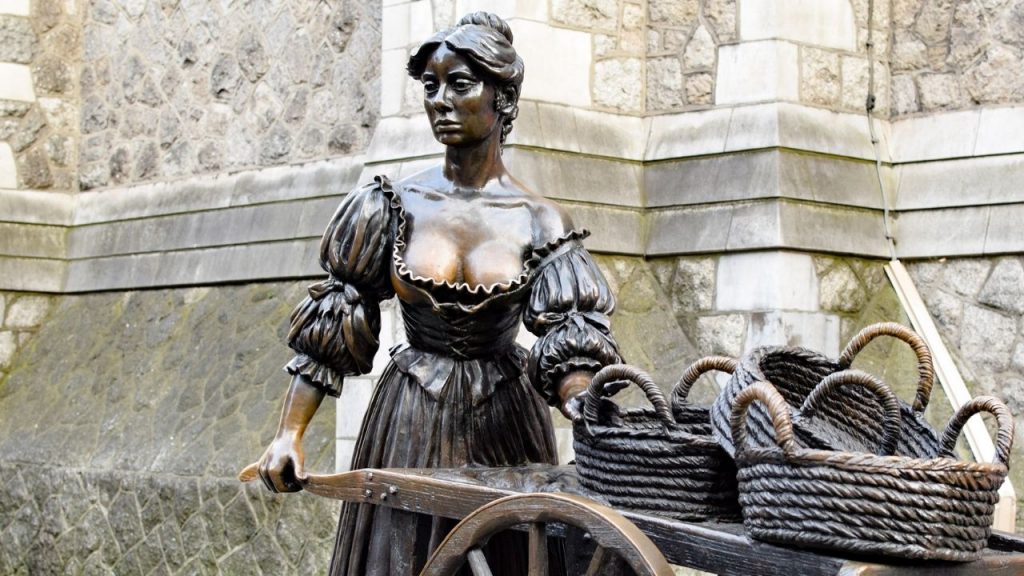 "In Dublin's fair city where the girls are so pretty, I forset my eyes on sweet Molly Malone…"
Molly Malone is believed to have lived in Dublin in the 1600s. She was an iconic figure in Ireland, known for selling fish and shellfish at the local market. She would set up her stall here every evening. Unfortunately, she died at a young age from a plague that swept through the Middle Ages.
She is also mentioned in the Irish folk song "Cockles and Mussels" or "Molly Malone". You may hear it played in many pubs in Dublin. Even though it's been years now, Molly has not been forgotten. Every June 13th is celebrated as "Molly Malone Day".
The Stag's Head is a famous pub located in the city centre of Dublin. It dates back to 1770, making it one of the oldest pubs in Dublin. The name of the place, The Stag's Head, comes from the stag's head mounted on the top of the bar. This was gifted by one of the pub's regular customers in the past. As a traditional Irish pub, it offers a fun and relaxed atmosphere. One of the great things about visiting is the opportunity to have a friendly chat with the Irish people.
And here's a secret: having a pint of black beer and chatting with an Irish person is definitely something you should do before leaving Dublin!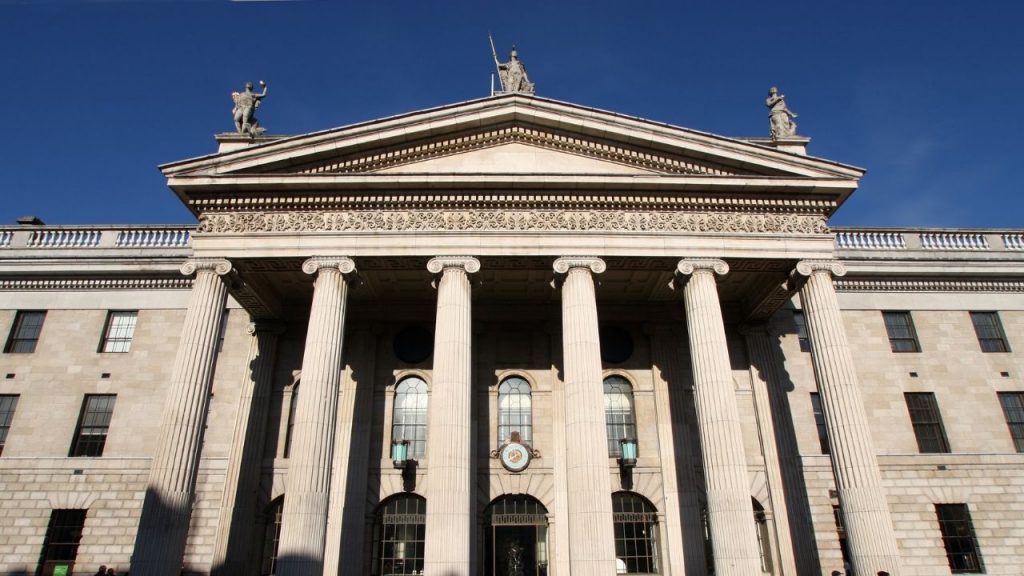 You can enter here from Monday to Saturday during work hours. But let us mention that you cannot visit if there is a wedding inside.
After arriving, you can proceed to the main hall and admire the magnificent classical architecture of the structure. It was built in 1977 as the Stock Exchange Building. Today, it is the headquarters of the city council. The basement is a bit small but contains a great museum. The museum, which has free admission, displays official seals and documents used throughout Dublin's thousands of years of history. There is also a charming cafe next to it where you can sit down and enjoy a slice of cake and coffee.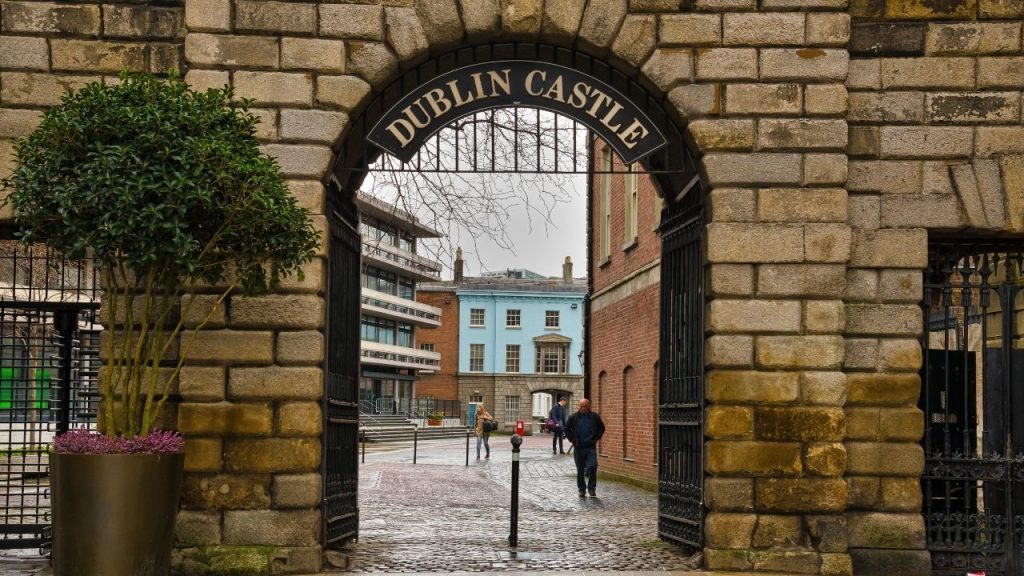 This place is interesting because, despite its name, it doesn't have a castle inside. The castle, built in 1204, unfortunately, burned down in 1684. Instead of rebuilding the castle, the Irish chose to build a palace. Inside, you can visit the rooms. One of the rooms is known as St. Patrick's Hall. When you go to the lower courtyard, you will see the castle. This is the largest surviving remnant of the Dublin Castle of the Middle Ages.
Today, this area appears to be a small park, but it used to contain a harbour during the Middle Ages. The jockey club here often hosts exhibitions. You can check if there is something of interest to you. But definitely visit the Chester Beatty Library Gallery on the right. It has a long name, but the interior of the building is breath-taking. Admission is free. (In fact, admission to all of Ireland's national museums is free.) We advise starting the tour from the museum section upstairs if you only have time to wander for a short time.
There is a great Lebanese restaurant nearby. You can go and enjoy the restaurant's wonderful terrace.
After you step into Smock Alley, you will find a building that looks like a church. This building was opened in 1662 as Ireland's first theatre. It is the fourth oldest theatre in Britain and the oldest theatre in Ireland. In the 1819s, when theatres were closed, it was converted into a church. Yet, in the 1980s, it began to be used again as a theatre. Inside, you can also see remnants of the theatre that have been preserved since 1662. It is nice to see it still being used for its original purpose.