The hidden gems of Paris, away from the tourist crowds, are definitely worth exploring. If you're looking for unusual suggestions and want to discover Paris beyond the tourist routes, you've come to the right place.
For a more comprehensive Paris guide, you can also take a look at our article, "Paris Travel Guide: Journey to the City of Lights." And if you'd like to explore Paris step by step with a guided audio tour, don't forget to download the Piri Guide mobile app!
A great starting point to discover the hidden treasures of Paris is 59 Rivoli. It wouldn't be accurate to simply call it an art gallery. It's more like a creative and collaborative space that encompasses a bit of an art gallery, a bit of a studio, and a place that supports artistic production. The walls, floors, spiral staircases, and the space itself are works of art and are exhibited. The building has a total of 30 rooms for artists, 15 of which are permanent and 15 are temporary. The temporary artists spend around 3-6 months at 59 Rivoli, so it's possible to visit again and again. The rooms serve as both workspace, exhibition space, and living space for the artists. The exterior artworks of the building also change frequently. 59 Rivoli is truly a vibrant and living place.
What makes it even more special is its independent spirit, free from molds and shapes, and a touch of bohemian atmosphere. There are no categorizations based on styles or any specific criteria like in a classical gallery. You can see extraordinary works from various styles and periods. The establishment story of this place is also fascinating. 59 Rivoli was an abandoned building left by the state for 15 years. Three artist friends, Kalex, Gaspard, and Bruno, sneaked into the vacant building and started living there. Of course, they were noticed, and attempts were made to evict them. However, with the support of the press and some legal procedures, 59 Rivoli has become what it is today.
59 Rivoli is completely open to the public and free. There is a donation box at the entrance, where you can contribute and support the artists and this extraordinary gallery if you wish. It's a wonderful starting point to explore the hidden places of Paris.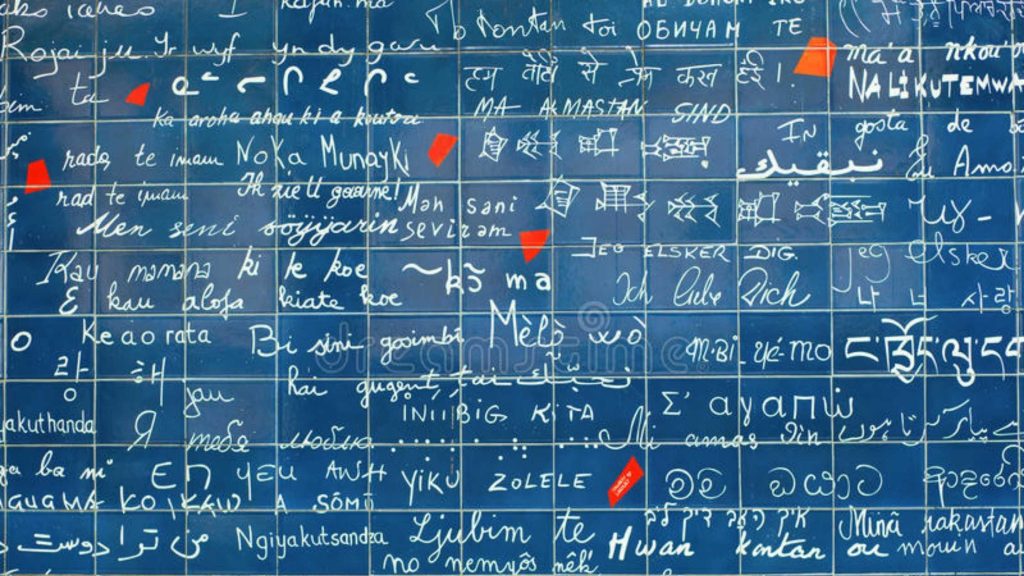 This wall in Jehan Rictus Square is both a work of art and a meeting place for lovers. Covered in blue tiles, it displays the phrase "I Love You" in a staggering 311 languages! Created by Fédéric Baron and Claire Kito in 2000, this masterpiece expresses the powerful and universal feeling of "love." The red dots on the wall are believed to represent fragments of a broken heart. If you pay attention, you'll notice that these red dots can come together to form a complete heart. While many tourists pass by this wall without realizing its significance, curious travelers, of course, know about it, and it has even witnessed marriage proposals 😊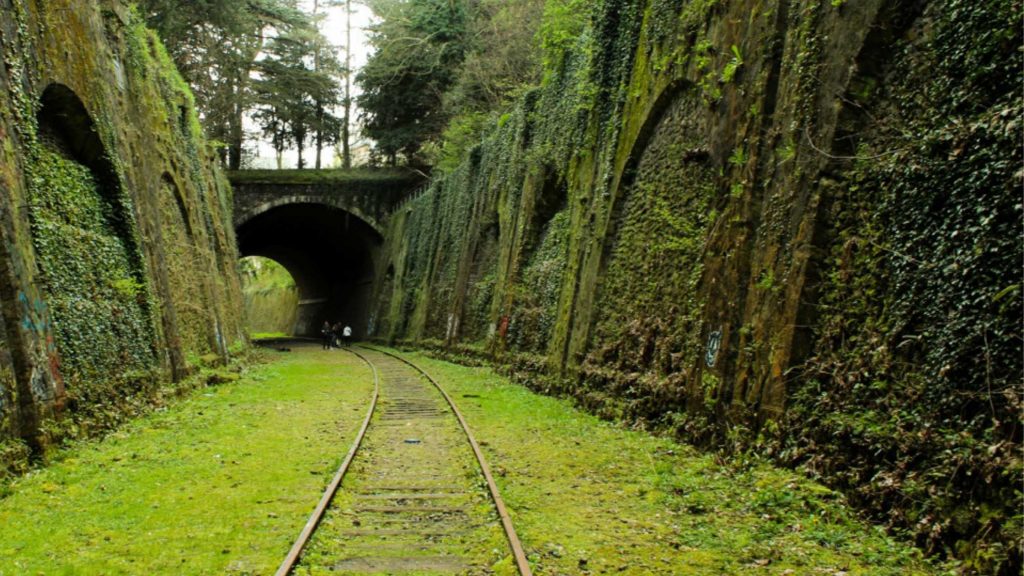 La Petite Ceinture is one of Paris' hidden gems. It's far away from the glittering lights of the Eiffel Tower and the trendy streets of Paris. The railway was built around Paris 150 years ago for defense purposes but was later abandoned. Today, it enchants visitors with its tranquility and greenery. Some sections are open for walking, and some old stations have been transformed into bars and restaurants. You can enjoy a lovely lunch here and savor the peace and quiet. Despite appearing slightly outside the city center, it's easily accessible by public transportation. For example, you can reach the area from the Pantheon by bus in just 20 minutes.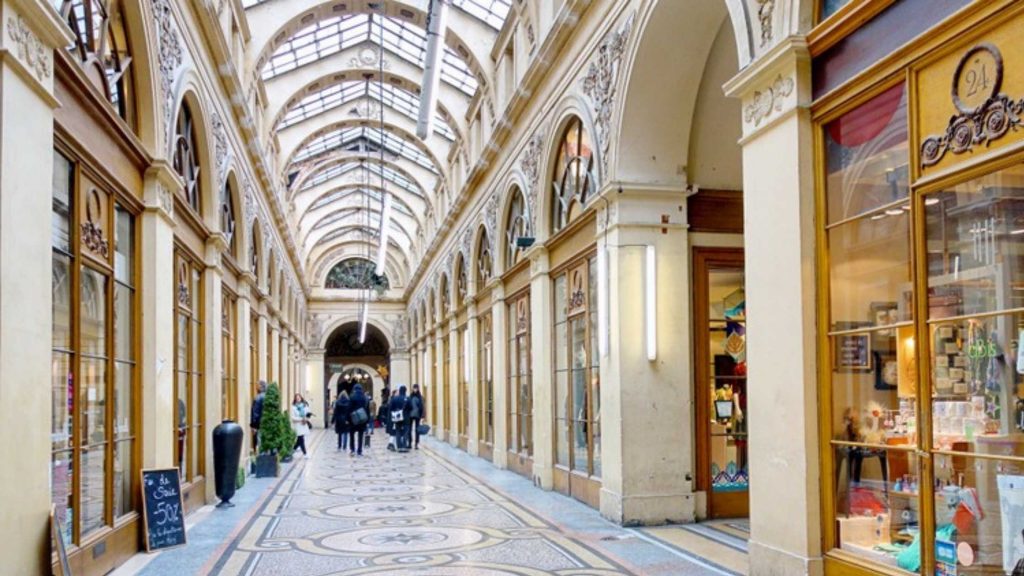 If you want to discover the hidden gems of Paris, exploring the covered passages is an absolute must! These passages from the 18th and 19th centuries hide authentic shops waiting to be discovered. Gallerie Vivenne is certainly not the only one, but it's our favorite. Built in 1823, Gallerie Vivenne boasts a stunning mosaic floor. It is renowned for its luxury clothing stores, bookshops, and wine shops. If you enjoyed strolling through the passages, you can also check out other nearby ones. Some of them include Galerie Colbert, Passage Bourg-l'Abbé, and Passage du Grand-Cerf.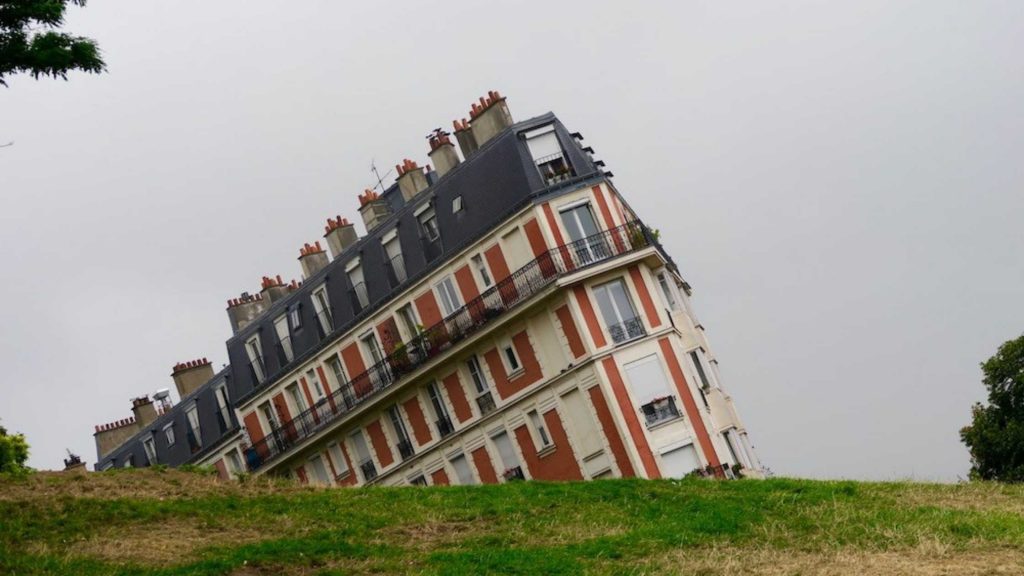 At first glance, the sinking house in Paris may surprise you, but it's actually just an optical illusion. When you find the building, take a photo and rotate it so that the grass appears level, and voila! You have the Sinking House! Everyone knows about Sacré-Cœur and visits that area, but not many are aware of this charming building and its illusion right next to it. When you're around Montmartre or Sacré-Cœur, give photographing the sinking house a try! 😊 By the way, transportation is quite easy, and you can reach it with just a 5-minute walk from the nearest metro station, Anvers.
Bonus Paris' Hidden Gems: Sainte Chapelle

It's not a Notre Dame, of course, but it's definitely a must-see! 🙂 Jokes aside, the fame of Notre Dame and the countless masterpieces in the city have overshadowed some other gems. Sainte Chapelle is a perfect example. From the outside, you can only catch a limited glimpse of the chapel's exterior. It shares a courtyard with the Palais de Justice. However, once you step inside, prepare to be surprised! Just look at these colors.
You can listen to Sainte Chapelle on our Piri Guide mobile app's Paris tour. Our guide, Saffet Emre Tonguç, shares the wonders of Sainte Chapelle and countless other masterpieces in the city in his tour called "The Heart of Art" in Paris.