Venice is a city that has always maintained its popularity. In fact, you wouldn't find many cities in the world that are as peaceful with their own beauty. Because we are talking about a settlement where the majority has remained the same since its founding. It was built on a limited piece of land above the sea, which has ensured that the city limits remain the same size without expanding. Venice is, first and foremost, different in texture. Unlike most European cities, the Romans and Greeks did not rule in Venice.
The Italian people who tried to escape from the Hun Emperor Attila settled in this city. Their desire was to move to the islands around the lagoon and guarantee their own future. And they were more successful than they expected. At that time, they built the city on 118 islands. Today, more than 400 bridges hold Venice together. 
🛎️ Reminder: To explore the Floating City step by step with your digital tour guide, don't forget to download Piri Guide! 😊
Venice is a city built on 118 islands in Italy. Canals separate these islands while bridges connect them. It is also the capital of Veneto, the 8th largest region in Italy. As everyone knows, it is a famous city for its architecture and artwork. Therefore, the whole of Venice, including the Venice Lagoon, is on the UNESCO World Heritage list.
The Best Season to Go to Venice
Yes, we are all tourists. But let's face it, none of us want to travel with a huge crowd of tourists. That's why you can visit Venice at its best in September and November. Tourist traffic really decreases during these months. We still have to admit that the weather is a little cooler. However, we would say to just wrap yourself up with a scarf and sweater and let yourself be in the arms of Venice. 
The rising of the water level, known as Acqua alta, can occur in September and April. There is also a possibility of it happening in November and December. If you are going during these months, don't forget to pack your boots!
By Plane: The main airport serving Venice is Marco Polo International Airport, which is about 12 kilometres away from the city centre. From the airport, you can take a shuttle bus, a water taxi, or a private transfer to get to your hotel or accommodation.
By Train: Venice is well connected by train to other cities in Italy and Europe. The main railway station in Venice is Santa Lucia station on the Grand Canal. From the station, you can take a water bus, a water taxi, or a gondola to reach your destination in the city.
By Bus: If you are coming from nearby cities, you can take a bus to Venice. The main bus station is Piazzale Roma, which is at the entrance of the city. Again, you can take a water bus or a gondola to reach your destination.
Must-Visit Spots in Venice
Venice, with its romantic gondolas and colourful carnival named after it, has always enchanted everyone. Let's explore this city that directed the Mediterranean trade together. 
We've made a list of must-visit places in Venice. Yet, we should remind you that you can find more on Piri Guide mobile app. Piri Guide detects your location, offers you the best travel routes, and starts telling you the hidden stories of wherever you are. All you have to do is to get your headphones or earbuds and follow the path at your own pace. Then, don't set out for your trip before downloading the digital travel guide! 😊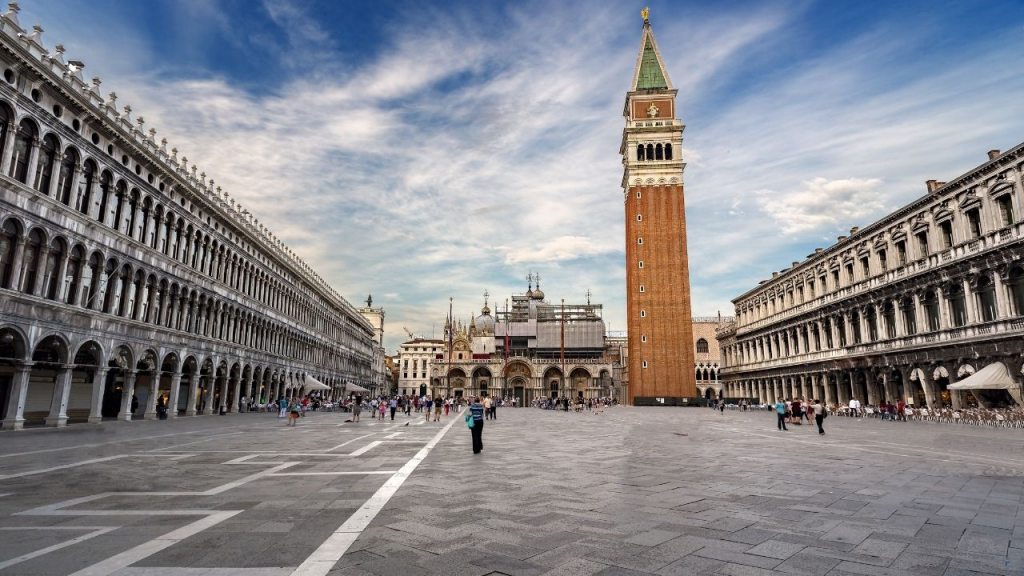 The San Marco Square takes on a different form when The Venice Festival takes place. The city was once referred to as the Lion Republic due to the winged angel of San Marco. This square is dedicated to the patron saint of Venice. You may have seen online when the Piazza San Marco was flooded. In this area, as we mentioned, the unpleasant situation called aqua alta can occur, meaning that small-scale floods happen because of the rising of water. Life on the islands is like a dream. But when this dream is in Venice, sometimes you may wake up with a splash of cold water.
The Ballroom of Saint Mark's Basilica
The famous basilica of San Marco is also located in St. Mark's Square. It has a beautiful story. After Napoleon conquered the city, he came to the Piazza San Marco. He said there were many churches in Venice but no ballrooms. He turned the second floor of the building, which is now a museum, into a large ballroom. The interesting thing is that Napoleon could not dance here because shortly after conquering Venice, he sold the city to the Viennese Habsburg dynasty. Nevertheless, the Byzantine-style facade of the building has not lost much of its grandeur.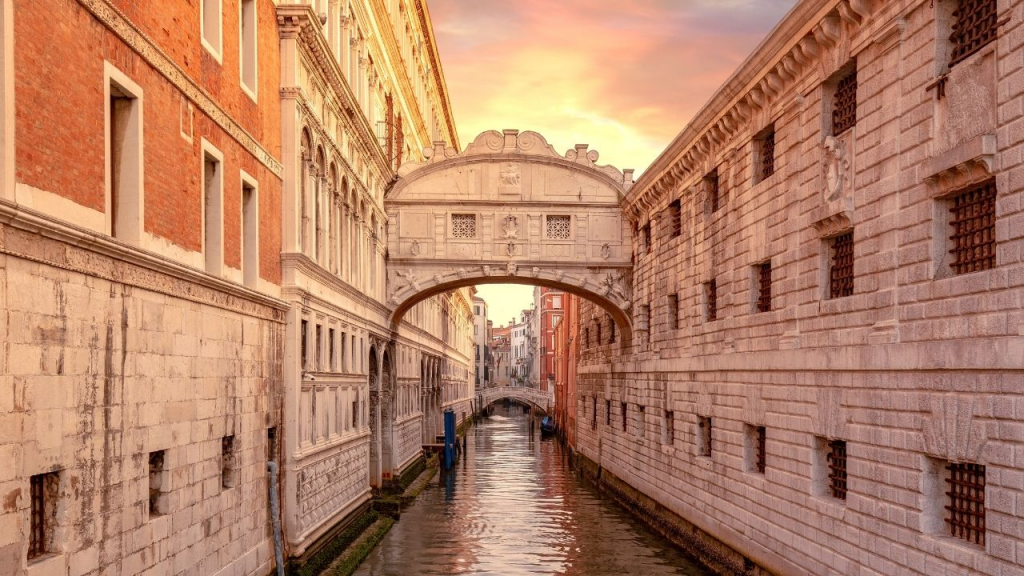 As you wander around the city, you will pass by countless bridges. Let's talk about the two most famous ones now. The first is the Bridge of Sighs. The bridge has this interesting name because it was near a prison, and those who were regretful of their sins would sigh as a result of their inner turmoil. However, this perception changed under the influence of the Romanticism movement. Today, tourists who cross the bridge believe that the name was given due to the longing felt by lovers. Well, with so many lovers taking a gondola ride, it's getting harder to find another reason.
The First Café in Europe: Café Florian
Now is the time to take a break, sit down and catch your breath while sipping your coffee. So, we suggest you go to Café Florian. According to legend, Europe's first coffee was served in Venice, at Café Florian. This venue opened its doors in 1720, which is exactly 300 years ago. It has become a staple for travellers like you who tour Europe. It has also been a favourite of many famous figures, such as Charles Dickens, Honoré de Balzac, Victor Hugo, Frederick Chopin…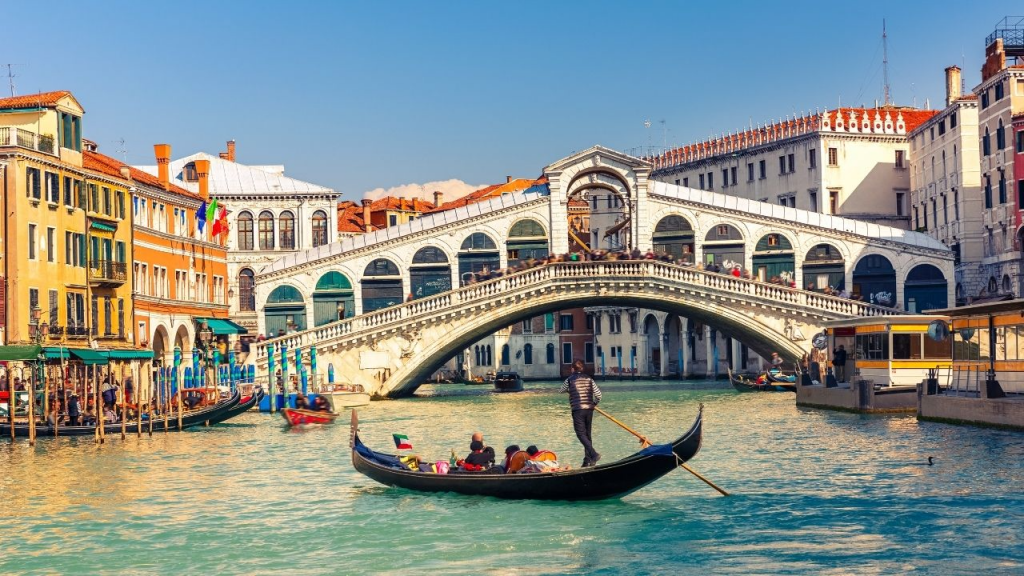 Rialto Bridge is one of the most famous and oldest bridges in the city. It is in an area where trade has been taking place for centuries. In fact, Shakespeare's famous play, The Merchant of Venice, begins in the Rialto Harbour. Contrary to belief, the famous writer never visited the place. Yet, in those days, Venice was the centre of trade in the Mediterranean. Therefore, it wouldn't have been difficult for him to describe it. It's actually like today. People who have never been to New York know of Wall Street as a central place for the stock exchange.
There was a warehouse of Turkish merchants here in the past. For years, the Ottoman Empire and Venice were at war, but the authority still allowed them to sell their products there. Let's say business is one thing, and friendship is another. You can still see the markets on certain days of the week.
A Gondola Tour on the Grand Canal
The most special activity that visitors to Venice can do is undoubtedly to go on a gondola tour. No wheeled transportation of any kind is allowed in Venice, so leave your car. Also, even your bike is forbidden! That's why the Grand Canal, with a length of about 3 kilometres, is the city's "main road". It is about 5 meters wide and has parts where it connects with other smaller canals. It's very easy to travel this way in the floating city, giving you the opportunity to examine the houses lined up around the canal.
Facts for Gondola Enthusiasts
A gondola ride on the canal is a precious experience. It's not a mass-produced vehicle. Building a gondola takes about three weeks and costs around 50,000 Euros. Even though it is expensive, they last up to 30 years if well-maintained. Every gondola you see has the same length, which is 11 meters. And they use seven different types of wood in the construction. Interestingly, none of these are exotic species. They utilize trees such as cherry and apple, not special things like thick African woods. Almost everything wood in this region is made of the local wood, which is one from the trees in the Alps mountains.
Neighbouring Islands of Venice
Venice is a small place. You may say, "That was it?" while discovering the place. So, visiting the neighbouring islands would be a great idea. One of these is Torcello, the city's first settlement area. Murano, the home of Venice glass, and Burano, with its colour and harmony, are also among the islands you can visit.
💘 Venice is truly a romantic city. We can't say for sure if it's the most romantic one because for some, Paris is the most romantic city in the world. If your answer is the latter, then maybe you'll take a tour of Paris after Venice. Then, our blog post "Travel Guide to Paris" might interest you.