Budapest shines as a vibrant capital in Europe with its history and multicultural people, doesn't it?
Today, our journey takes us to the Jewish Quarter, one of the most popular areas. The Jewish Quarter is among the city's most famous parts thanks to its architecture, texture, and history. It also hosts the Great Synagogue, the largest synagogue in Europe.
🛎️ Reminder: To explore the heart of Hungary step by step with your digital tour guide, don't forget to download Piri Guide! 😊
Budapest is Hungary's capital and largest city, located in Central Europe. It is situated on both banks of the Danube River and has a population of approximately 1.7 million people.
In the past, Buda and Pest used to be two separate regions. The famous Danube River flows between them. They merged later to become the Budapest we know and love today.
By plane: Budapest has an international airport called Budapest Ferenc Liszt International Airport, which serves many airlines and destinations around the world. Once you arrive at the airport, you can take a taxi or use public transportation such as buses or trains to get to the city centre.
By train: Budapest has three major railway stations serving domestic and international destinations. Keleti Railway Station is the largest and most important station, serving trains to Vienna, Prague, and other European cities.
By bus: The largest and most important bus station is Népliget, which serves buses to various destinations across Europe.
The Best Season to Visit Budapest
The best time to visit Budapest depends on your interests, budget, and schedule.
In the spring, the temperature is mild. Plus, there are fewer crowds. You can enjoy the city's parks and gardens as they come to life with colourful flowers and trees. On the other hand, summer is the peak tourist season, with long sunny days and warm temperatures. Budapest has a vibrant outdoor scene during this time, with events such as the Budapest Summer Festival and Sziget Music Festival.
🌨️ Do not forget about the beautiful winter scenery of Budapest! Budapest is magical during the winter season, with festive decorations, Christmas markets, and ice-skating rinks. The city's thermal baths are especially inviting during this time. However, be prepared for cold temperatures and fewer daylight hours.
Must-Visit Places in Budapest
We've made a list of must-visit places in Budapest. Yet, we should remind you that you can find more on Piri Guide mobile app. Piri Guide detects your location, offers you the best travel routes, and starts telling you the hidden stories of wherever you are. All you have to do is to get your headphones or earbuds and follow the path at your own pace. Then, don't set out for your trip before downloading the digital travel guide! 😊
Dohány Street Synagogue (The Great Synagogue)
The Great Synagogue is not only the largest synagogue in the city but also the largest in all of Europe! It is the second largest synagogue in the world after the Emanu-El Synagogue, located in New York! It has the capacity to accommodate 2200 people inside.
The most surprising thing about this synagogue is not its size but its design! The design of the synagogue from the outside looks like a mosque! Moreover, when you enter inside, things get even more confusing because the structure's interior design is also prepared like a Christian church. "Why?" I can hear you asking. In the periods when the structure was designed, Jews did not want to attract attention. Therefore, they designed their places of worship to be close to other faiths.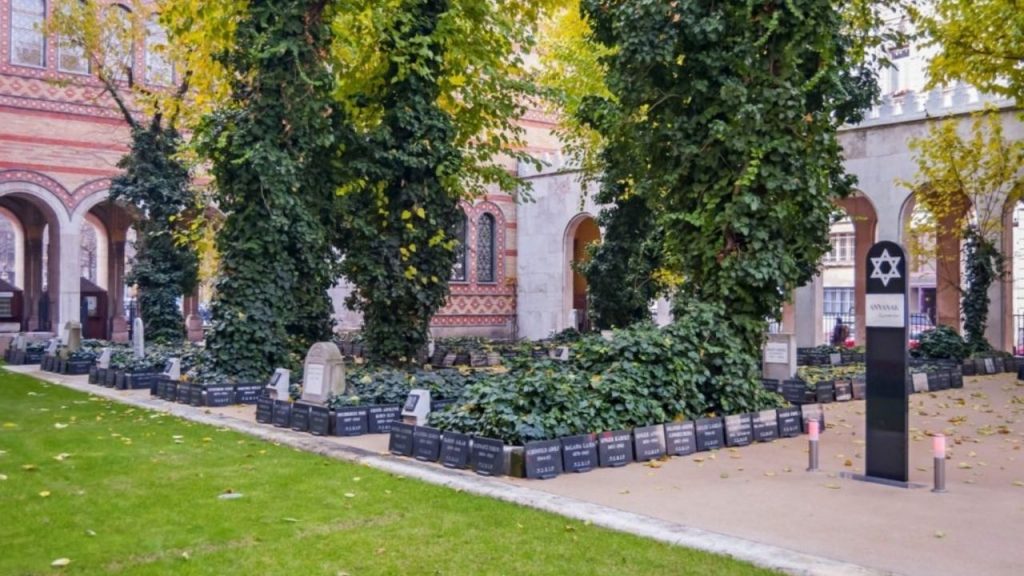 The garden of the synagogue resembles more of a cemetery. Normally, according to Jewish beliefs, there are very important differences between life and death. They also want to keep them separate physically, so cemeteries are usually built far away from places of worship. However, there is an exception here! 
This cemetery dates back to World War II. At that time, this synagogue's garden was one of the few pieces of soil that was not frozen enough to dig in the middle of winter. Therefore, 24 giant graves were opened for the burial of 2281 people. They could not even identify many deceased people.
Tree of Life (The Emanuel Tree)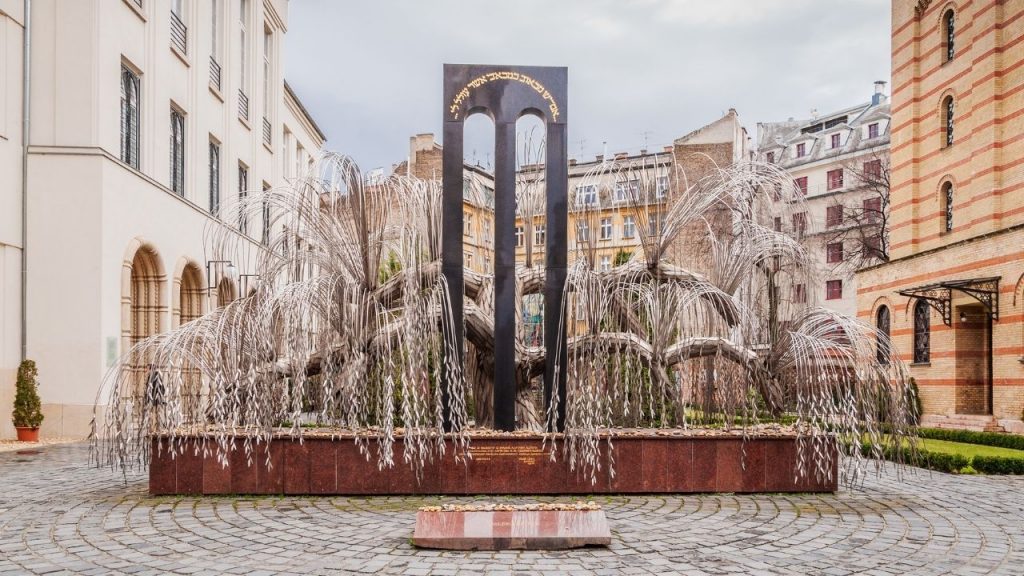 The architecture of the tree resembles an upside-down Menorah. It is like a reversed version of the famous seven-branched candelabrum of the Jews. A total of 40,000 names are written on this tree's leaves. These are the names of people who lost their lives in the genocide. Only 40,000 out of 450,000 Hungarians have their names on this tree.
Because the Emanuel Foundation made the Tree of Life, the public also calls it "the Emanuel Tree".
Raoul Wallenberg Holocaust Memorial Park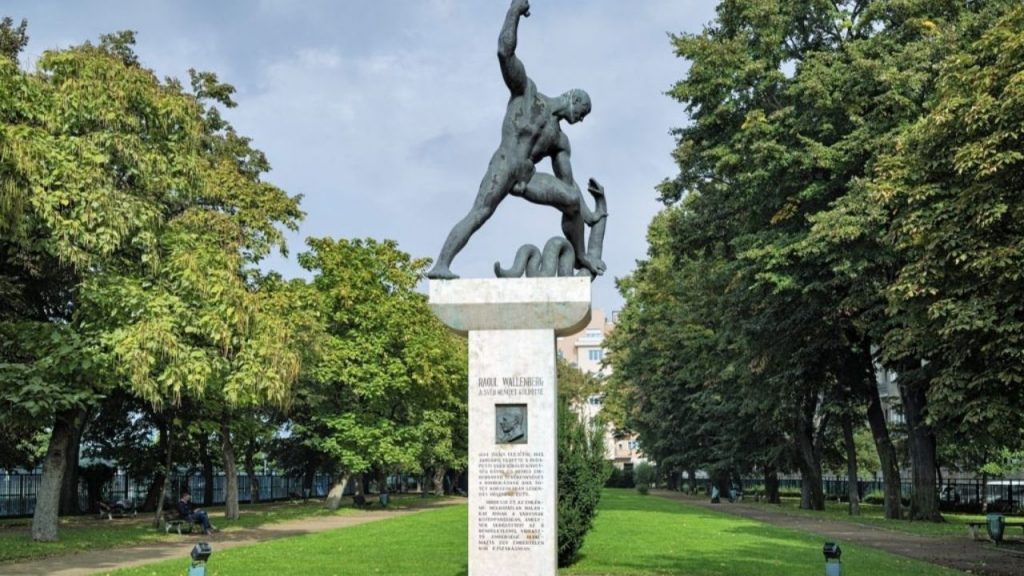 Raoul Wallenberg Park and the Tree of Life are actually dedicated to the humanitarians who showed heroism during World War II. These are the people who risked their own lives to save the lives of Jews… Perhaps the most well-known among these individuals is Raoul Wallenberg, who also gave his name to the park. Raoul was a Swedish diplomat and is believed to have saved the lives of tens of thousands of Jews.
After walking a bit down Kazinczy street, there is a building that is impossible to miss. This is building number 14, with a sign that reads "Szimpla" at the entrance. In fact, this building is a "ruin bar". As you can guess from its name and appearance, ruin bars are bars that are built in dilapidated, abandoned buildings. This is a famous architectural style in Budapest, and Szimpla Kert is one of the most popular ruin bars.
👉🏻 There is a special website dedicated to ruin bars.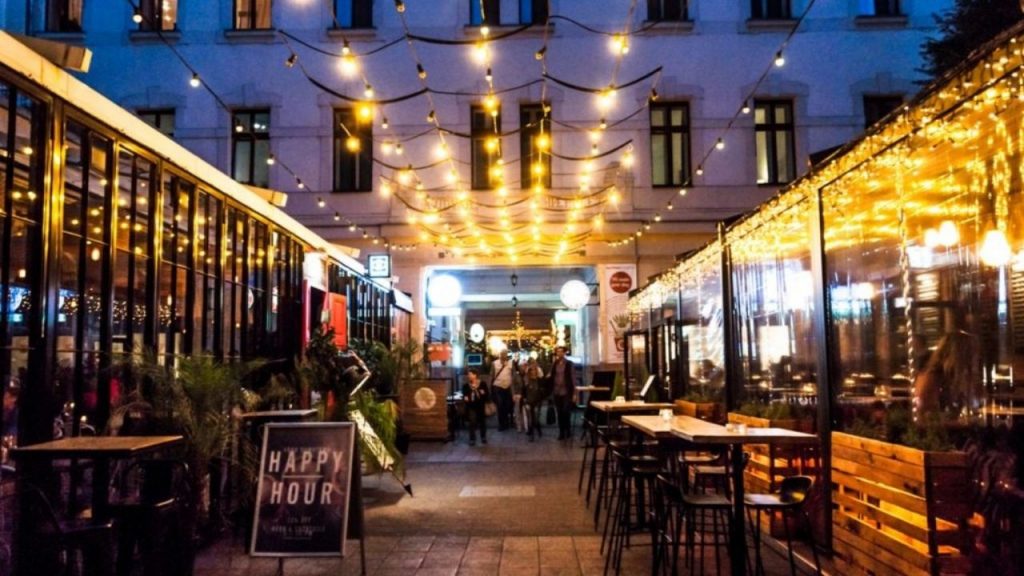 Welcome to the heart that beats with the life energy of the Jewish Quarter! This is the Gozsdu Courtyard, which was built in the mid-19th century. This small passage hosts 26 bars, cafes, and restaurants thanks to its unique architecture, which provides a large area. The surrounding buildings were built as 7 separate structures intersecting with  6 inner courtyards.
Gozsdu used to house small shops and artist workshops when it was first built. However, due to the destruction of World War II, they all closed down, and the entire area became a ruin after the war. Fortunately, in the early 21st century, it underwent a successful restoration and took on its current form. Both day and night, it is possible to see busy human traffic here.
The yellow and orange-fronted building is 28 meters long and is the smallest synagogue in the Synagogue Triangle in this area. The place of worship is attributed to a very small Jewish community called Status Quo Ante. Actually, it would be more accurate to say that it belonged to them because unfortunately, all community members lost their lives during World War II. Therefore, there is no one left to worship here or to take care of the building.
This statue is dedicated to Carl Lutz, a Swiss diplomat who saved the lives of thousands of people during the genocide in Hungary during World War II. There is an archangel on top of the statue reaching out its hand to the person lying on the ground.
Actually, Carl Lutz's story is a bit controversial. After World War II, an investigation was launched against Lutz in his home country of Switzerland. The reason for this was the accusation that Lutz endangered Switzerland's neutrality and collaborated with the Nazis. These accusations saddened the people of Budapest because Lutz is believed to have saved the lives of thousands of Jews. He was acquitted of the charges in the 1950s.
As you can see, there are many monuments from World War II in Budapest. History enthusiasts may also want to check out our Travel Guide to Berlin. There are also important monuments and memorial museums there. 
Also, if you want to explore Budapest at your own pace and immerse yourself in its history, Piri Guide is perfect for you! Without wasting any time, you can download Piri Guide for free.