Prague, in every sense of the word, is a city of fairy tales. You can feel as if you've stumbled into a time machine while walking through the streets of Prague. This is a place that has inspired Rilke, Kafka, Kundera, and even Nazim Hikmet. Therefore, it's no surprise that the city is filled with culture and art.
You may hear Europeans refer to Prague as the "Golden City." But, of course, that's not its only name. Prague is also known as the "Roof of Europe," the "Mother of Cities," and the "City of a Hundred Spires." It deserves all of these names because it truly is a place where history converges. Like many European cities, Prague was damaged during World War II. But perhaps the greatest characteristic of Prague is that, despite this damage, some of the buildings were able to protect themselves. This is why it's so rich in historic houses and places. 
🛎️ Reminder: To explore Prague step by step with your digital tour guide, don't forget to download Piri Guide! 😊
Prague, known as "Praha" in Czech, is the capital and largest city of the Czech Republic. It is located in Central Bohemia on the Vltava River. According to legend, the city gets its name from the river's weirs. The city is bordered by Germany and Austria. Geographically speaking, the Czech Republic is considered the "Heart of Europe." This name is not far from the truth, as the country is located in the very centre of the continent, surrounded by land.
By plane: Prague's main airport is Václav Havel Airport, which is located about 12 kilometres northwest of the city centre. Many major airlines operate flights to Prague from destinations around the world.
By train: Prague has an extensive rail network that connects it to other cities in the Czech Republic as well as to other European cities such as Vienna, Budapest, and Berlin.
By bus: There are many bus companies that operate international routes to Prague, and the city also has an extensive network of local bus and tram lines.
P.S. Despite being a European country, the currency of Prague is not the Euro but the Czech Crown. Therefore, our suggestion is that you prepare yourself accordingly.
Best Season to Visit Prague
The ideal time to visit Prague is during the first period of spring and fall, as the city is less crowded, and the weather is warmer. However, it can be difficult to find a hotel during the summer months as tourists flock to the city for the warm weather. If you still want to visit during the summer, it is recommended to bring an umbrella. On the contrary, visiting Prague in the winter can also be a good option for your plan, especially in December and March, when you can enjoy a skiing holiday in Prague.
Must-Visit Places in Prague
Welcome to the Golden City! 
We've made a list of must-visit places in Prague. Yet, we should remind you that you can find more on Piri Guide mobile app. Piri Guide detects your location, offers you the best travel routes, and starts telling you the hidden stories of wherever you are. All you have to do is to get your headphones or earbuds and follow the path at your own pace. Then, don't set out for your trip before downloading the digital travel guide! 😊
The Heart of Prague: Old Town Square
The Old Town Square has witnessed many events, such as executions, sieges, and award ceremonies throughout history. This area is closed to traffic except for horse-drawn carriages. The house where Franz Kafka lived is also in this square. Officially known as Staromestske Namesti, it is one of the most richly decorated squares that you can see. It has survived two world wars and various disasters.
Thematic markets are also set up in the Old Town Square, and you can also encounter cultural events during certain periods of the year. From markets showcasing Eastern culture to Christmas markets, there are a variety of different events that take place. In the square, you will also see the statue of Jan Hus. Jan Hus was a Czech reformist who lived about 100 years before Martin Luther. He was the first reformist of the Catholic Church within European borders, but his radical personality led to his execution in 1414.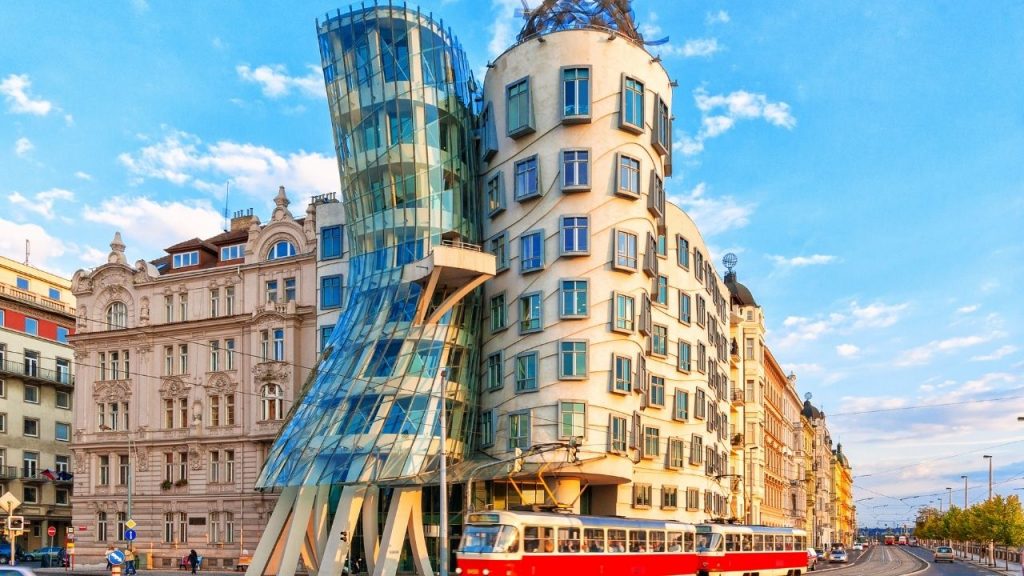 The Dancing House, also known as Ginger and Fred, is a modern building that stands out among Prague's historic structures. It was built between 1992 and 1996, and its design was inspired by the dance movements of a famous movie couple. The stone tower represents Fred Astaire, while the glass tower represents Ginger Rogers. When it was first built, it was met with resistance from the local community, who believed that it did not fit in with the city's aesthetic. However, as it gained fame over time, it has become a beloved landmark in Prague.
A Modernist Perspective: Statue of Franz Kafka
The Franz Kafka Monument is located at the entrance of the Qadrio building, the most expensive and crowded shopping center in modern Prague. The bust of Franz Kafka is made of stainless steel, each layer of which moves independently. It consists of 42 layers in total. These layers move in a way that presents 15 different positions throughout the day. With a value of over 1 million euros, it is the most expensive statue in Prague.
Franz Kafka was born into a German-Jewish Czech family in Prague. His father owned a shop on the Old Town Square that sold expensive items. Kafka died in his early 50s due to tuberculosis. But before that, he had practiced law in Prague and considered writing short stories and novels as a hobby. In 2014, David Cerny built this 45-ton Franz Kafka Monument in memory of Kafka. The statue has also caused controversies in the art world.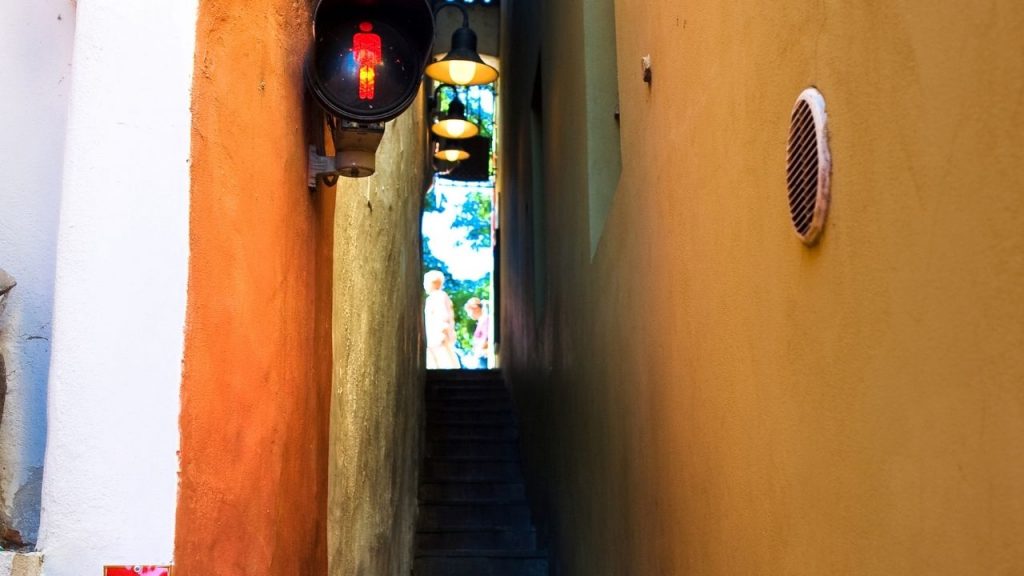 Prague also includes one of the narrowest streets in the world. The street is squeezed between two buildings. It is so narrow that if you see someone at the other end of the stairway, you're stuck! Because it is impossible to make room for each other. A traffic light has been placed for pedestrians, but not every tourist follows it.
Can a city with a river running through it not have a bridge? Our next stop is the city's most famous bridge, Charles Bridge. It was built in the 14th century by King IV Charles. It is said that 10,000 egg whites were used in the construction of the bridge each year. There are around 30 historical statues on it. However, all of these statues are replicas; the originals are displayed in the Prague City Museum. Actually, there was another bridge here before Charles Bridge. That one was destroyed in flood, and this bridge was built in its place. 
Until World War II, trams used to pass over the bridge. Cars continued to pass through until the 1960s. But now, it is only open to pedestrians, making Charles Bridge the only bridge in Prague open to pedestrians over the river. The river under the bridge is the country's longest and most important river. There are quite expensive hotels, restaurants, and cafes around it. When walking on the bridge, don't rush. Take the time to examine each statue from different historical periods and enjoy the view.
The Symbol of Freedom: Lennon Wall
Yeeees, we are talking about John Lennon, the legendary member of The Beatles. In 1980, the famous musician was shot and killed, and in his memory, various graffiti have been made here. Afterward, the wall was commemorated in this way.
Prague is a city with so many museums that it's difficult to choose just one to recommend. That's why we've put together a list of must-see museums for everyone, from museum enthusiasts to those who find museums boring. Our list includes the Museum of Mummies, the Museum of Torture, the Museum of Communism, the Fossil Museum, the Kafka Museum, the Karel Zeman Museum, and the Mucha Museum.
Prague is a very enjoyable city to visit, and as we have said, it is difficult to tell everything about this unique city. That's why we recommend listening to our audio tours, "Coronation Route" and "The Road to the Heart of Prague," on the Piri mobile app to discover more.
If you want to discover Barcelona, read our A Travel Guide to Barcelona! 😊