Are you ready to teleport to one of the most tourist-attracting cities in Europe? 
Barcelona frequently hosts protests by locals due to the high tourist density. This magical city attracts more than 30 million tourists every year. And it has a population of only 1.6 million. The city's charm starts from where everything began: the city's founding story. According to legends, the city was founded by Hercules or the Caragenian General Barca before Rome.
If you try to visit every corner, it will take you months. So, it's best to take a look at this list!
🛎️ Reminder: To explore Barcelona step by step with your digital tour guide, don't forget to download Piri Guide! 😊
Barcelona is on the North East Mediterranean coast of Spain. It is also the capital of the Catalonia region in Northern Spain, which has its own culture, traditions, and identity.
Flying: You can book a flight to Barcelona's El Prat Airport (BCN), located approximately 12 km from the city centre. Many major airlines offer flights to Barcelona from different cities around the world. 
Train: If you're already in Spain, you can take a train. The city is well connected by train lines, including high-speed trains, which can take you to Barcelona in a matter of hours. 
Bus: There are also long-distance bus services that connect Barcelona with other cities in Spain and Europe. 
Ferry: If you're coming from nearby islands, such as Ibiza or Mallorca, a ferry to Barcelona would be an enjoyable choice.
The best time will be the period between April and June. However, these months are suitable for those who want to spend time on the beaches of Barcelona and participate in festivals. In other words, for those who say, "I've come this far. I don't want to go inside, I want to stay outside!" If your trip aims more at exploring Barcelona, then the months of March-May and September-November are much more ideal.
Where to Stay in Barcelona?
If this is your first time in Barcelona, we recommend staying in more central locations. This will give you easy access to transportation and places to visit. Plaça de Catalunya, the Gothic Quarter, and Las Ramblas are ideal areas in this regard. It is possible to use the metro and bus lines in these three areas easily.
If you want to visit Barcelona, it is easy to get from the city centre to the beach. It only requires a short walk of approximately 4 kilometers. Due to the majority of the year being sunny and warm, we recommend walking rather than taking a taxi or public transportation. Once you arrive at the beach, make sure to try the delicious seafood from the Mediterranean. Most Barcelona beaches have bars and restaurants, where you can also try tapas.
Some of the beaches in Barcelona include:
Barceloneta

Icària

Mar Bella

Stiges
🏖️️ P.S. Mar Bella is not an official "nudist beach", but it is possible to encounter both nudists and non-nudists. However, it is also good to be aware of this beforehand.
Must-Visit Places in Barcelona
Barcelona is a true Mediterranean city with its amazing beaches and warm atmosphere. It is important to remember its achievements in the arts, cuisine, and sports. Many painters and artists have passed through these lands, and their presence is still alive in this city. 
We've made a list of must-visit places in Barcelona. Yet, we should remind you that you can find more on Piri Guide mobile app. Piri Guide detects your location, offers you the best travel routes, and starts telling you the hidden stories of wherever you are. All you have to do is to get your headphones or earbuds and follow the path at your own pace. Then, don't set out for your trip before downloading the digital travel guide! 😊
This marble structure, built in Spanish style, is one of the must-see places in Barcelona and is the work of Kazanovas. Meaning "triumphal arch", it was designed as the main gate of the Universal Exhibition held in Ciutadella Park in 1888. The arch is decorated with themes such as arts and crafts, labor, and industry. The relief on the frieze represents Barcelona, welcoming foreign visitors.
Football is one of the world's most loved sports. That is why Barcelona football club is the first to come to mind when thinking of the best football clubs. Camp Nou is the stadium of the FC Barcelona football team. Even if they are not interested in football, there are many travellers who enjoy visiting football clubs during their overseas trips and buying souvenirs such as jerseys and scarves.
The stadium is known as Camp Nou all over the world, but its full name is Estadio De Futbol Club Barcelona. Camp Nou means "new field" in Catalan. You can visit sections such as the changing rooms, the press tribune, and the substitute bench. There is also a museum inside the stadium. The museum displays all the cups, awards, and medals that the team has won. A photo with famous football players in a photomontage can also be an unforgettable experience.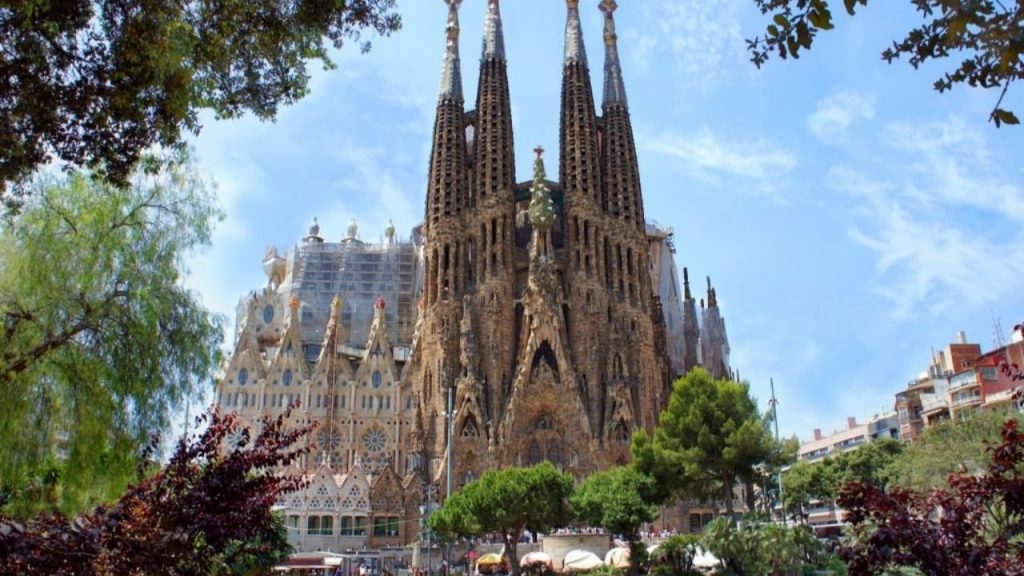 The La Sagrada Familia, or the Sacred Family Cathedral, is the symbol of Barcelona. In fact, the symbol is none other than Antoni Gaudi himself. No architect has incorporated his works into the fabric of a city in this way. The towers, which seem to be made of wet sand slipped through your fingers on the beach, evoke Kapadokya's fairy chimneys and melted giant candles.
Catalan architect Antoni Gaudi, who disregarded the architectural rules of the century, devoted almost his whole life to this work. Indeed, he did so, but unfortunately, he was only able to complete one facade of the structure. This place has many symbols and secrets with its extraordinary appearance. When construction started, there was an area where cattle grazed around it. Today, the cathedral is located in the heart of the city.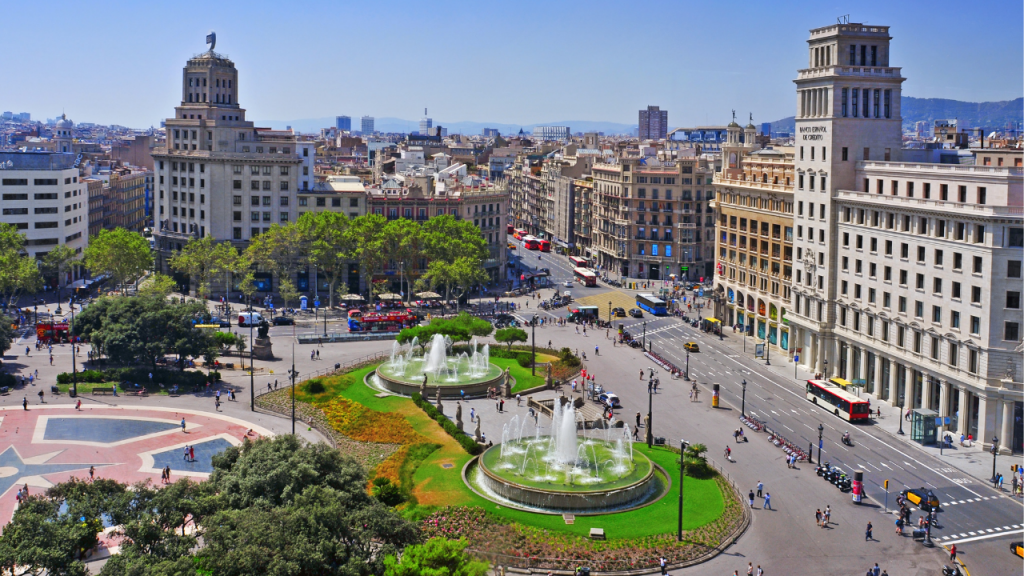 This is the centre of the old city and the area called Eixample. Many important streets have their centre at this square. Until the mid-19th century, Plaça de Catalunya was outside the city walls of Catalonia. After the demolition of the walls in 1858, it became more popular and busier. Fountains and sculptures enrich the square. There are many sculptures around the area. One of the most well-known ones is in memory of the former president of the Catalan government, Frances Macia.
In the centre of the small pool in front of it, there is a woman statue. Joseph Clara made this in 1982. It is called the Enigma Goddess. A white building covering one side of the square will also catch your attention. That is the big store El Corte Ingles, which has branches all over Spain. The building used to be the home of the founder of the store.
Casa Battlo, Casa Les Punxes, Columbus Monument, Miro Museum, Catalonia Palace of Music, and many more hidden city stories… There's so much we want you to know here! You can find all of these in our audio tour, "Barcelona: Gaudi's Canvas". Then, the time has come to uncover the treasures of this fantastic city, don't waste any time! 😊
For the ones who will add Prague to their list, don't forget to read our Prague Travel Guide before setting out!