"Life is like a fairy tale; what matters is not its length but its value."
This phrase might sound familiar to some of you. Those who say Seneca are correct! The famous Roman philosopher Seneca was born in Cordoba. But he's not the only one. The Islamic scholar Ibn Rushd and the Jewish thinker Musa bin Maimon were also born in these lands. So, as you can understand, this is a place where intellectual and cultural richness come together. In fact, Cordoba was the centre of science and art in its time.
Its magnificent streets and buildings succeed in drawing you in! These streets and buildings also hold a whole history within them. Cordoba served as the capital for both the Roman province and an Arab state in the past. Finding a city with such historical uniqueness is not easy at all. Throughout your visit, the city makes you feel this distinctiveness.
🛎️ Reminder: To explore the world with your digital tour guide, don't forget to download Piri Guide! 😊
Cordoba is one of the autonomous communities in Spain, specifically in Andalusia. The city is known for its leather and silver production.
You can reach the city from Madrid by bus, but that's not the only option. You can also transfer to Malaga or Seville and then proceed to Cordoba. There are buses available for both Malaga and Cordoba. Additionally, it's possible to transfer to Cordoba by train from these cities. If you travel by train from Malaga, the journey takes approximately 45 minutes.
The Best Time to Visit Cordoba
Cordoba is particularly beautiful during the spring months. The days are long, and the temperatures are ideal for exploring the city. However, if you're having trouble deciding, we recommend visiting in May. January and February are the least crowded times for tourists. So, if you're coming from a crowded city and prefer to avoid crowds, these months would be a good choice.
Places to Visit in Cordoba
We've made a list of must-visit places in Cordoba. Yet, we should remind you that you can find more on the Piri Guide mobile app. Piri Guide detects your location, offers you the best travel routes, and starts telling you the hidden stories of wherever you are. All you have to do is to get your headphones or earbuds and follow the path at your own pace. Then, don't set out for your trip before downloading the digital travel guide! 😊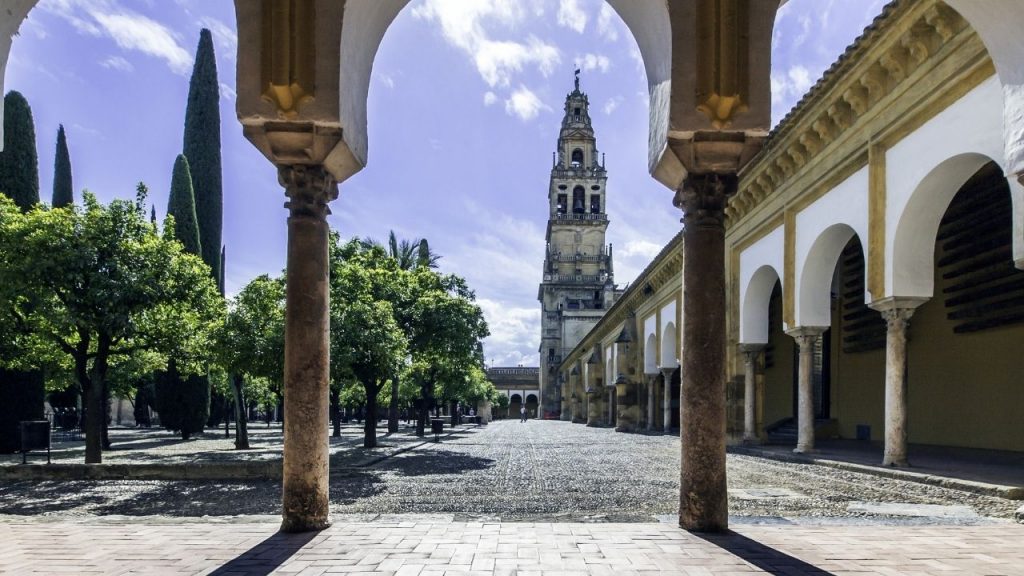 The Cordoba Mosque, known as the "Kurtuba Cami" in Turkish, is just one of the 600 mosques in Cordoba. However, it is the grandest and most famous one. If you ever get lost in the city, you can simply follow the minaret of the Cordoba Mosque because it's visible from almost everywhere. All roads lead to the Cordoba Mosque.
The mosque was built in 785 AD by Abdurrahman I on top of a church. In 711, the Umayyads settled in the city, and during these years, the church became a testament to religious tolerance. Both Muslims and Christians worshipped here together, with the main prayer area divided by a curtain to accommodate both faiths.
The Jewish Quarter of Cordoba
Andalusia was a land where Muslims, Jews, and Christians lived together. You can already sense this unity in the Cordoba Mosque. This coexistence has brought about a beautiful cultural richness. Everyone who passed through the lands of Andalusia left their mark behind. The Old Jewish Quarter reflects the traces of Jewish history and culture. Jews lived here from the 10th century to the 16th century. However, with the arrival of the Christians, the Jewish population was forced to leave the region.
The historical texture from the Middle Ages can still be felt. The neighborhood, with its narrow and sometimes seemingly dead-end streets, resembles a labyrinth. There are many different museums you can visit here. For instance, the Andalusian House and the Alchemy Museum are just two of them. Those interested in getting to know the paper-making process and its history can visit the Museo del Paper, the Paper Museum.
Julio Romero de Torres Museum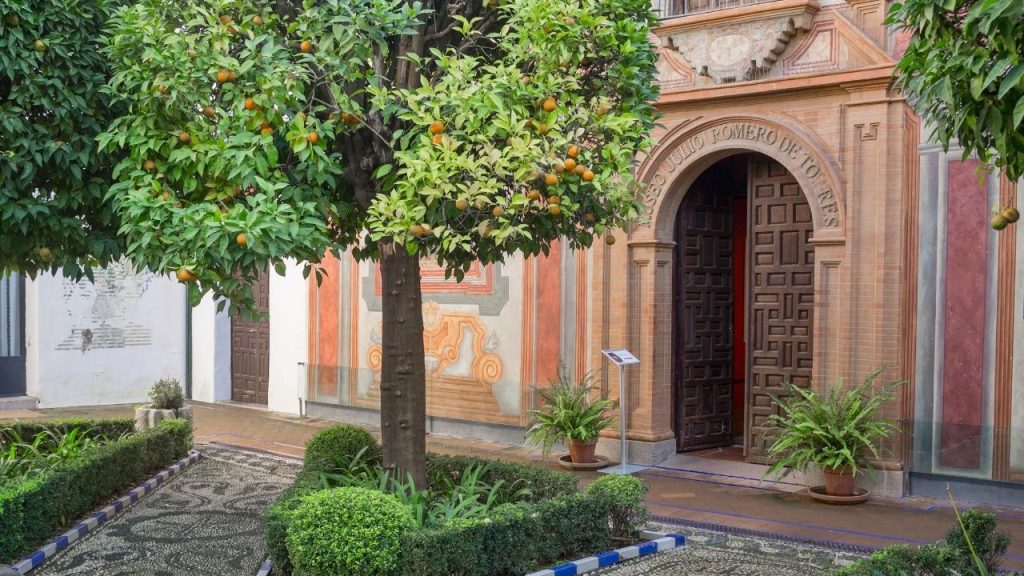 The Julio Romero de Torres Museum, located in Porto Square, is one of the most important museums in the city. It occupies a building made of cut stone and has been transformed into a museum in honour of the painter Julio. The renowned artist was born in Cordoba in 1874. Julio used to live in this square with his family. He passed away in his hometown in 1930. After his death, his wife and children donated his works to the city. Later, the building was purchased, and in 1931, it became the Julio Romero de Torres Museum.
Julio was a painter deeply in love with his hometown, and you can see his love for Cordoba in his works. He chose to depict the city's iconic buildings and streets along with its people in his paintings. The artist painted a variety of subjects, from mystical and religious themes to the women of Cordoba. The museum consists of six different rooms, each dedicated to different works by Julio. For example, one of these rooms contains sculptures made by his father.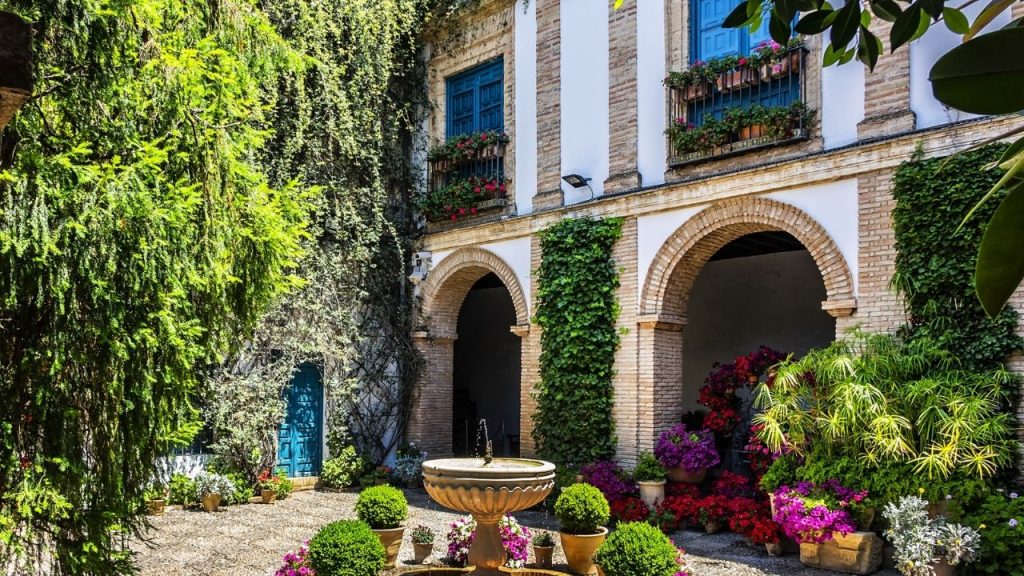 Behold the extraordinary beauty of Vienna Palace!
The palace has changed hands so many times! In the 1980s, it was acquired by the Marquis of Vienna. That's why it's now called the "Vienna Palace." However, don't think of Vienna Palace as something entirely new. Its name might be new, but its history dates back to the 15th century. During that time, it was used as a personal property. But later on, it became a place where nobles spent time, and even stayed.
Vienna Palace offers you a splendid visual feast because more than half of this place is a garden. To give you a sense of scale, the palace covers 4,000 square meters, including lush gardens and courtyards. You can explore the courtyards and gardens for free. However, if you want to go inside, there is an entrance fee. Inside, you'll find Renaissance-era artefacts, paintings, dining sets, and wall tapestries. In addition to these, there's a leather collection and an ancient library.
Cordoba to Barcelona by train takes approximately 5 hours and 30 minutes. So, travellers who want to explore Barcelona after Cordoba can check out our Barcelona Travel Guide!