"It is a dream place that isn't quite real when you are there and becomes beckoningly real after you have gone."
That's what the author of Of Mice and Men, John Steinbeck, said about Amalfi…
Amalfi truly possesses a magical energy. It's a geography where the scent of the sun intertwines with the Mediterranean, and the fragrance of lemons permeates everywhere. They haven't called it paradise on Earth for no reason. Every detail of this city is uniquely beautiful – from its flavors, streets, to its people. By the way, Steinbeck isn't the only one influenced by Amalfi. 
According to rumours, the famous English writer Virginia Woolf stayed at Villa Cimbrone on the Amalfi coast. The title of her book "The Waves" is said to have originated from here.
🛎️ Reminder: To explore the world with your digital tour guide, don't forget to download Piri Guide! 😊
Amalfi is a renowned coastal town located in the Salerno region of Southern Italy. It also serves as the regional capital of Campania. After Rome and Milan, it is the third-largest city in Italy. Since 1997, it is on the UNESCO World Heritage list.
If you're thinking of touring Rome before heading to Amalfi, you can disembark in Rome. However, Naples, which is 60 km away from the region, is much closer to Amalfi. The flight between Naples and Istanbul takes about 1 hour and 30 minutes. You can use a taxi or a bus for transportation from the airport. There are also private transfer buses available from Naples Capodichino Airport to Amalfi.
You also have the option of taking buses from Sorrento to Amalfi. Another possibility is to pass through Salerno. Those who claim to be ferry enthusiasts should act quickly, as there's a chance you might not find tickets. Moreover, the ferries in Amalfi don't operate throughout the year, especially during the winter months. It's advisable to plan your trip accordingly 😊.
The Best Time to Visit Amalfi
Consider visiting during the less touristy months of May and September. During these periods, the temperature generally ranges between 20-25°C (68-77°F). You can explore in light summer clothes during the day. However, you might need slightly thicker clothing for evening strolls. For those among us who wish to savour the crystal-clear waters of Amalfi, it's worth noting that the sea can be a bit cool in May. If crowds aren't a concern for you, the summer season is ideal for enjoying the water.
Amalfi Cuisine: Attention Cheese Lovers!
We're in the birthplace of mozzarella, Italy! Since you've come this far, of course, you'll be tasting mozzarella – that's for certain. But if you're a true cheese enthusiast, there are two more cheese varieties you should try:
Provolene del Monaco

Goat cheese in the Lattari Mountains

And let's not forget Limoncello – Italy's second most consumed liqueur.
There's also Minori's famous pasta, Ndunderi. According to UNESCO, Ndunderi is one of the world's oldest pasta varieties. It's like a type of Italian dumpling. Having a plate of pasta in Italy before plunging into a cheese coma wouldn't be a bad idea at all 🍝
Must-Visit Spots in Amalfi
We've made a list of must-visit places in Amalfi. Yet, we should remind you that you can find more on the Piri Guide mobile app. Piri Guide detects your location, offers you the best travel routes, and starts telling you the hidden stories of wherever you are. All you have to do is to get your headphones or earbuds and follow the path at your own pace. Then, don't set out for your trip before downloading the digital travel guide! 😊
Museo Diocesano di Amalfi
This place is a Medieval Basilica, also known as the Basilica of the Cross. It's a rectangular structure oriented lengthwise. Once you step inside, you can better appreciate the shape of the building. The Diocesan Museum contains relics of a saint, including valuable items such as bones. In the 19th century, a prince heard that the relics were stored here, so he devastated Amalfi and set fire to the basilica. With the help of the papacy, it was reconstructed. In the 1990s, it was transformed into a museum.
Inside, there are numerous artefacts, but the most remarkable and valuable one is a bishop's headdress dating back to the 14th century. Additionally, there are relic containers that might seem a bit eerie due to their appearance. These three container replicas in the shape of heads are displayed in a showcase.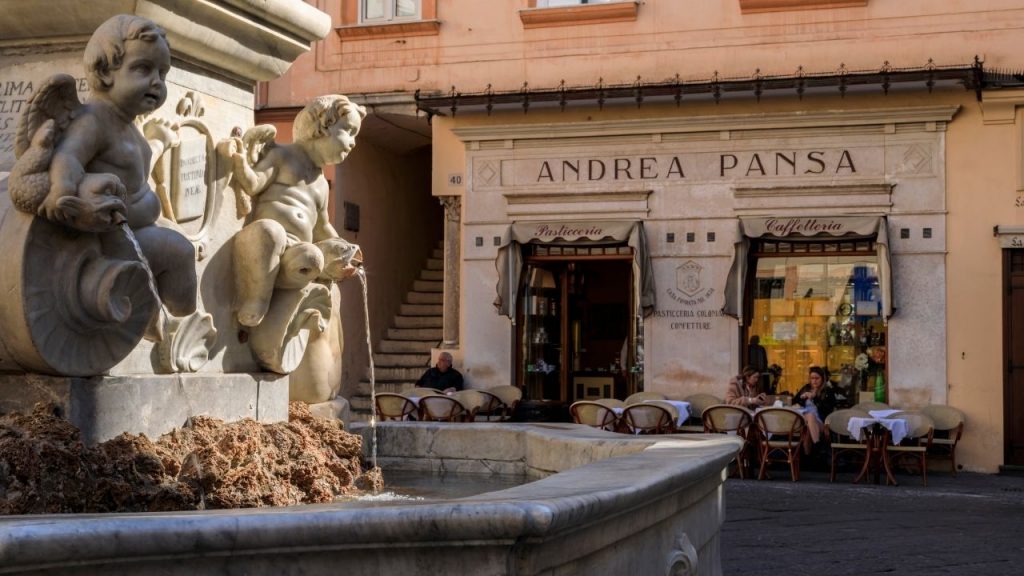 Founded in 1830 by Andrea Pansa, the current operators are the fifth-generation descendants of Andrea. As you can see, the family has not only preserved the establishment but also maintained it beautifully. If you encounter someone who has been to Amalfi and you're looking for recommendations, chances are high that you'll hear about Pasticceria Pansa. That's because it's a cafe that everyone raves about and recommends. If you want to taste Amalfi flavours, we strongly suggest you pay a visit here.
When you go there, finding a seat might be quite challenging. So, grab your pastry and head to the cathedral's steps to enjoy your treat there. Our suggestion is to get something lemon-flavoured and pair it with a coffee. After all, you're in the birthplace of Espresso and Cappuccino! ☕️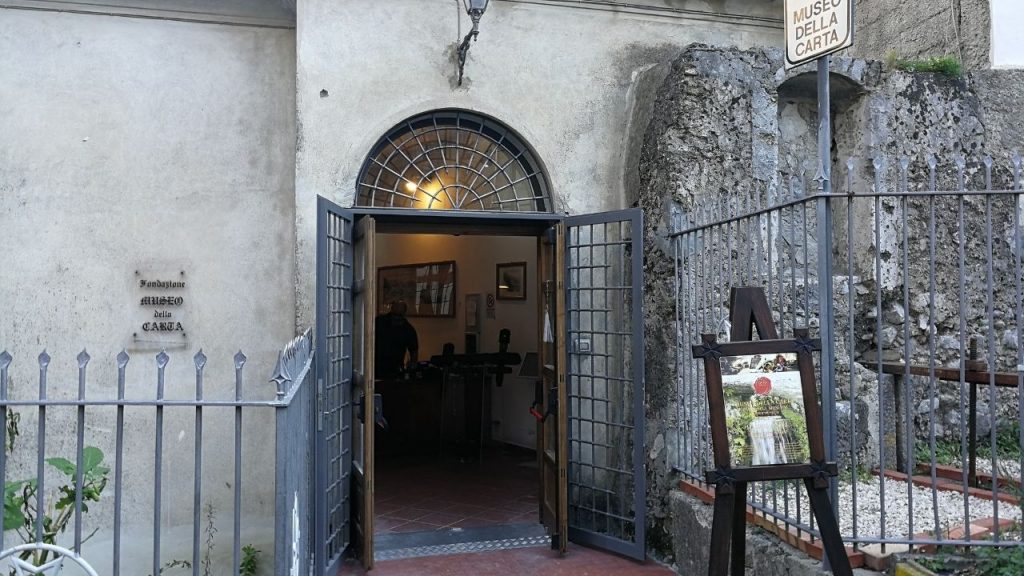 Welcome to Museo della Carta, or in other words, the Paper Museum! 📜
This place is housed in a rather small and unassuming building. In fact, due to its somewhat hidden location, it might not catch your attention immediately. However, we recommend visiting it because the museum takes you on an incredible historical journey. The building itself dates back to the 13th century and was once a paper mill. In the past, the energy for the mill was generated by the water stream flowing underneath, which powered the mills. These mills are still operational today. 
Paper production continued until the 1960s. However, it was closed down due to challenges in trade and production. In 1970, it was transformed into a museum, and that's what it remains today.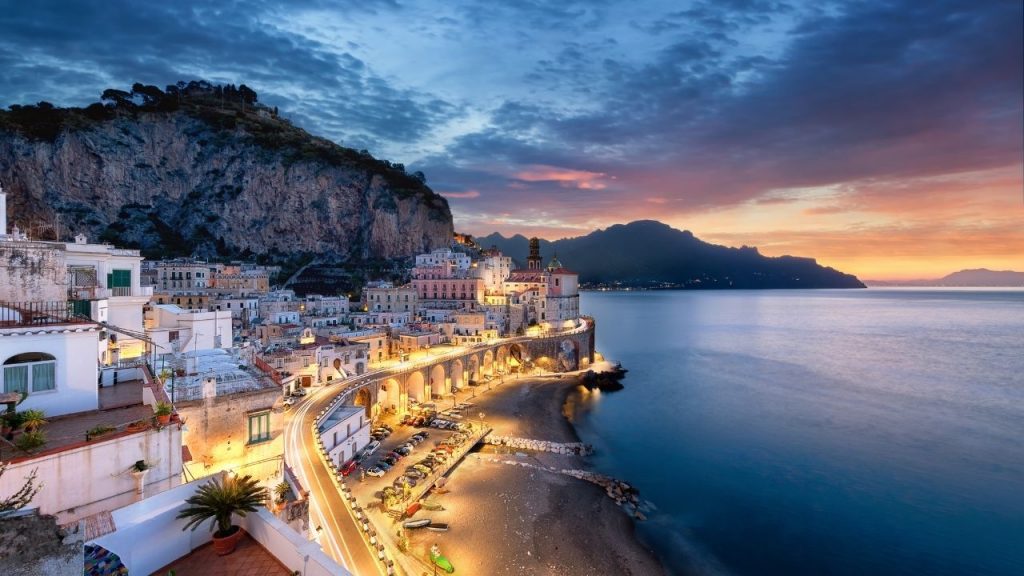 "Dolce far niente"
The beauty of doing nothing…
 At first, one might associate this Italian phrase with laziness. However, "dolce far niente" describes that moment when you escape the hustle and bustle, and you genuinely do absolutely nothing. It's just you and your thoughts. Just you and the sea. Atrani is indeed one of the most beautiful places where you can experience this phrase in real life. Come to Atrani, lay on a sunbed, and truly do nothing!
After a bit of "dolce far niente," you can start exploring Atrani. The area is quite small and its history dates back to the 1st century AD. There used to be Roman villas here, but the city suffered significant damage from the volcanic eruption in 79 AD. Atrani is conveniently located just 1 hour away from the ancient city of Pompeii.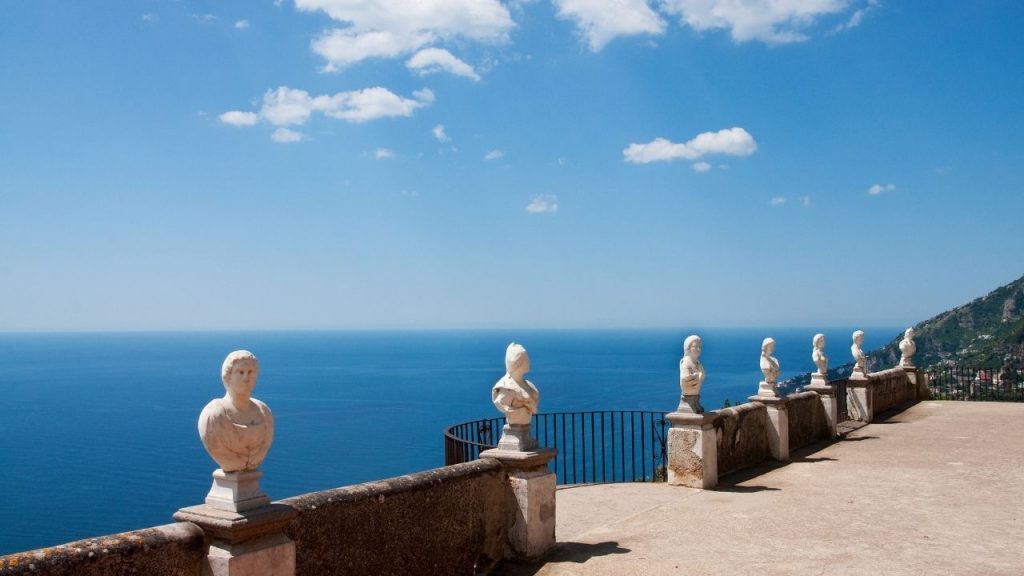 Here is Villa Cimbrone, where Virginia Woolf stayed!
You enter through a rounded arched doorway. The moment you step inside, you witness living proof of why Amalfi is called the "Heaven on Earth." Surrounding you are vineyards and ancient sculptures (of course, these are replicas). The villa is believed to have been built in the 11th century and was initially owned by an aristocratic family.
Today, it's a 5-star hotel complex, but the courtyard and gardens are open to visitors. As you proceed inside, you'll come across a monastery and a terrace known as the "Terrace of Infinity." This terrace is a point where you can lose yourself in the mesmerizing azure view of the Tyrrhenian Sea, a branch of the Mediterranean. Therefore, we strongly recommend ascending to this spot and enjoying the Mediterranean sun and the beauty of the Tyrrhenian Sea.
If you say "I'm in Italy, it's a betrayal not to visit Rome!", then check out our Rome travel guide! 💙