The radiant sun shines brightly, and it reveals the amazing summer destinations in Turkey. Captivating seaside getaways, ancient riches, and bustling urban centres yearning for exploration… Turkey presents an array of mesmerizing encounters and the sun-drenched shores of the Aegean. Prepare yourself for an enchanting adventure through the best summer destinations in Turkey. Of course, don't forget to grab your sunglasses, pack your swimwear, and embrace the Turkish delight that awaits.
🛎️ Reminder: To explore the best summer destinations in Turkey with your digital tour guide, don't forget to download Piri Guide! 😊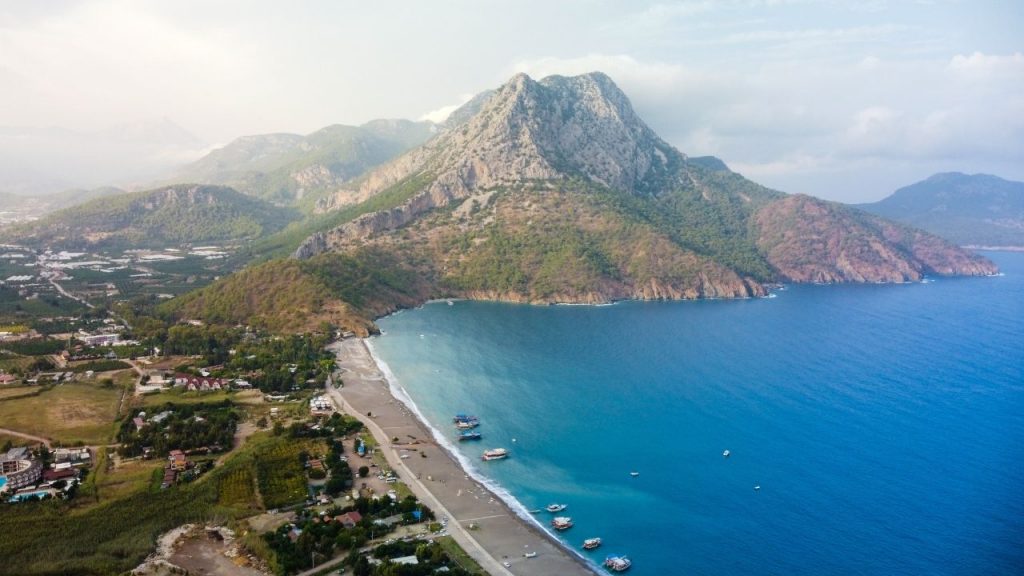 You may know Antalya as the "Pearl of the Mediterranean". And it's not hard to see why!
The region boasts a Mediterranean climate with mild winters and hot summers. This weather of the city makes it a year-round destination for sun-seekers. Imagine basking in the glorious sunshine, indulging in water sports, or simply relaxing on the beach while enjoying the gentle sea breeze—pure bliss!
Antalya has a rich heritage dating back thousands of years, with influences from various civilizations, including the Greeks, Romans, and Ottomans. As you stroll through the charming old town known as Kaleiçi, you'll be transported back in time.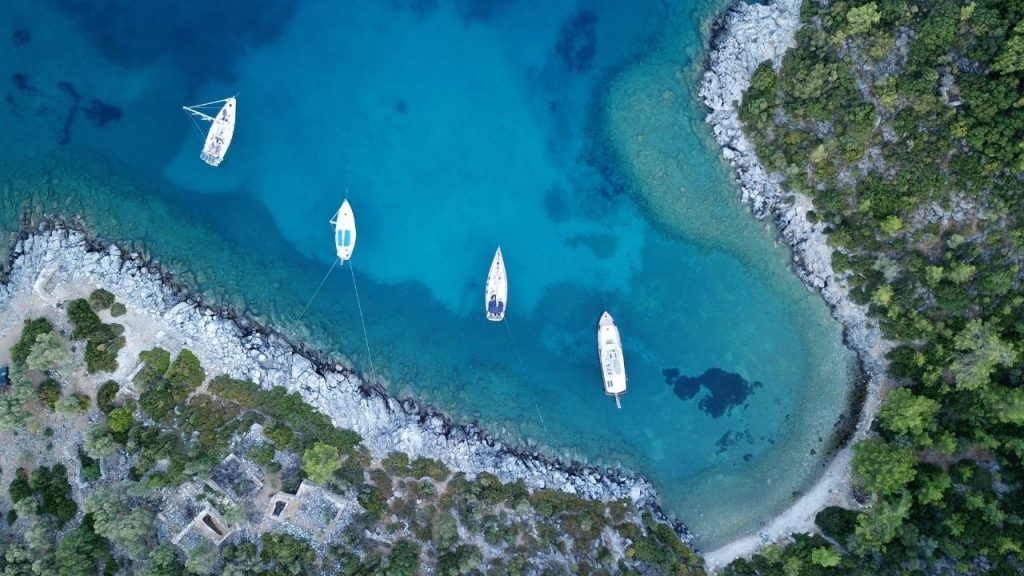 Bodrum's coastline is truly breathtaking, with crystal-clear turquoise waters and pristine beaches. Whether you're looking to soak up the sun, swim, or indulge in water sports like diving or sailing, Bodrum offers plenty of options.
Gumbet Beach and Bitez Beach are popular choices, but if you prefer a quieter spot, you can explore hidden coves and secluded beaches along the peninsula. The town's charming marina, known as Bodrum Marina, is a vibrant hub where you can find luxurious yachts, traditional Turkish gulets, and lively waterfront restaurants and bars.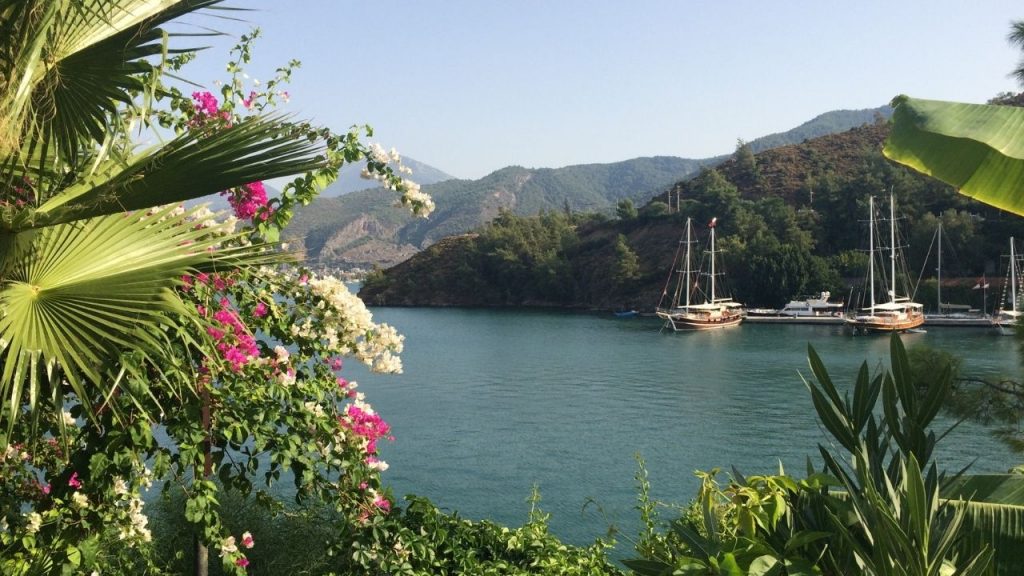 This is amongst the must-visit summer destinations in Turkey. Even Charlotte Wells' touching movie Aftersun was filmed in Fethiye. 
One of the standout features of Fethiye is its stunning coastline. After all, it's on the crystal-clear waters of the Aegean Sea and a paradise for beach lovers as well as water enthusiasts. Ölüdeniz Beach, just a short distance from Fethiye, is particularly famous for its picturesque turquoise lagoon and powdery white sands. It's no wonder that Ölüdeniz consistently ranks among the world's most beautiful beaches.
You'll come across fascinating archaeological sites, including the well-preserved Lycian rock tombs right on the cliffs that overlook the town. These thousands of years old tombs are a testament to the rich heritage of the region.
We should remind you that you can find more about Turkey on Piri Guide mobile app. Piri Guide detects your location, offers you the best travel routes, and starts telling you the hidden stories of wherever you are. All you have to do is to get your headphones or earbuds and follow the path at your own pace. Then, don't set out for your trip before downloading the digital travel guide! 😊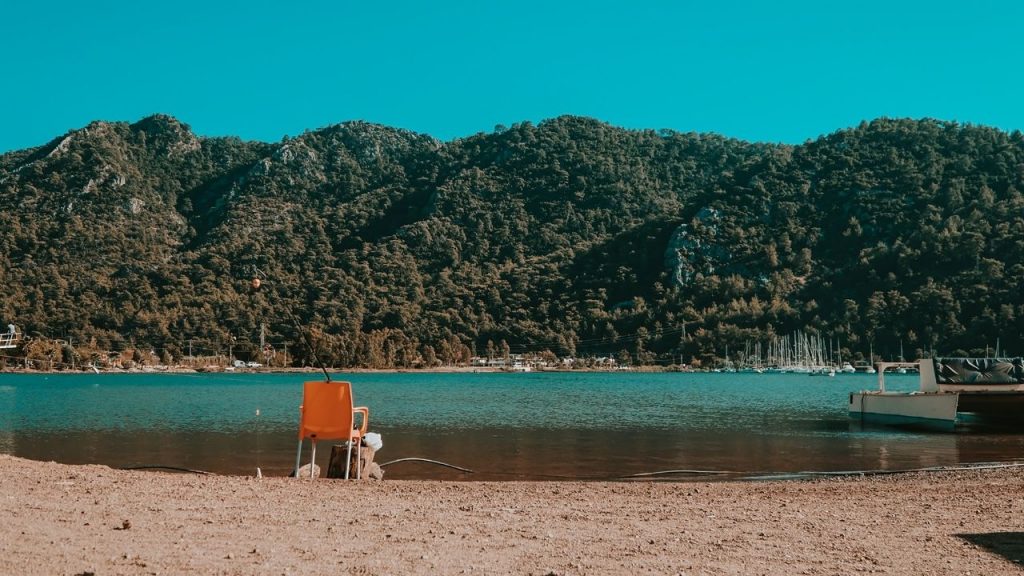 The city is between the azure waters of the Aegean Sea and the majestic pine-clad mountains. Marmaris boasts breathtaking views that are truly awe-inspiring. It is also one of the most impressive summer destinations in Turkey for sailing enthusiasts. Its strategic location makes it an ideal starting point for sailing adventures along the stunning Turkish Riviera. You can charter a boat and embark on a memorable voyage, exploring the hidden coves and secluded beaches.
For those seeking a bit of excitement, Marmaris is also popular for its vibrant nightlife. It comes alive after sunset, with a plethora of bars, clubs, and live music venues offering entertainment for all tastes.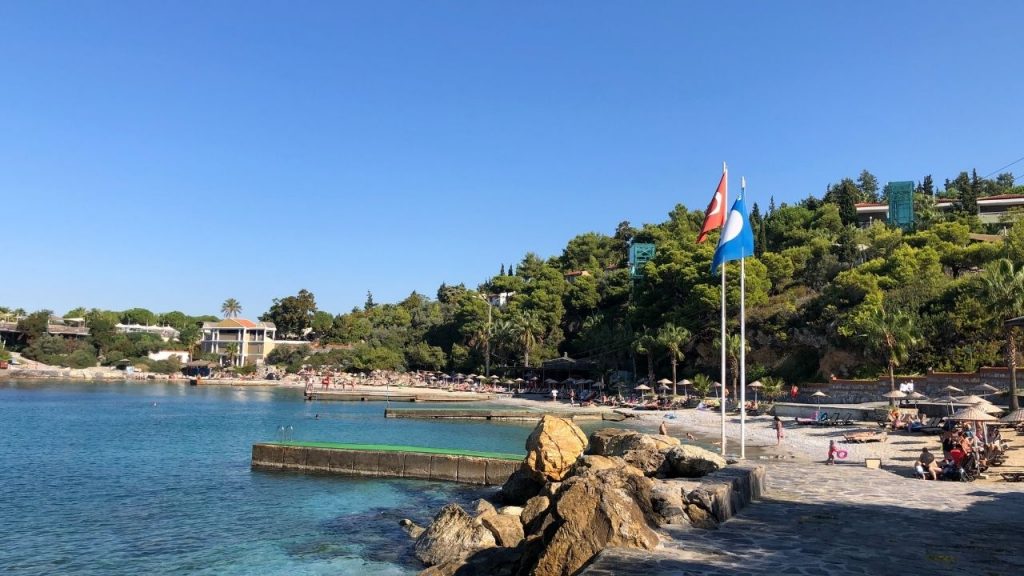 If you're a sun and sand enthusiast, the gorgeous beaches of Kuşadası are exactly for you.  Ladies Beach, Long Beach, and Silver Sand Beach are just a few examples of the beautiful stretches of coastline where you can relax, swim, and soak up the Mediterranean sun. The crystal-clear waters of the Aegean Sea provide the perfect backdrop for a day of seaside bliss.
Kuşadası is a well-liked stop for cruise ships, attracting tourists from various parts of the world. Travellers arriving by sea are greeted by the town's delightful harbor, which has quaint cafes and restaurants. The waterfront invites visitors to take a leisurely walk, explore local stores for distinct mementos, and relish the delectable Turkish dishes while enjoying the captivating vistas.