In the ancient land of Anatolia, where cultures have converged for millennia… Here comes Bodrum!
The town stands as a living testament to the beauty of blending East and West. From the impressive ruins of the Mausoleum at Halicarnassus – one of the Seven Wonders of the Ancient World – to the imposing Crusader Castle of St. Peter that guards the harbor, history echoes through every stone and cobblestone street. But Bodrum is not just about its illustrious past; it embraces the contemporary with open arms. The town's vibrant arts scene, bustling bazaars, and mouthwatering culinary delights reflect its rich heritage and cosmopolitan spirit.
🛎️ Reminder: To explore Bodrum step by step with your digital tour guide, don't forget to download Piri Guide! 😊
It is a popular coastal town and district in the southwestern part of Turkey. Bodrum is in the Muğla Province.  Bodrum Peninsula separates the Aegean Sea from the Gulf of Gökova. The town has stunning beaches, historic landmarks, a vibrant nightlife, and a beautiful scenery.
✈️  The nearest airport to Bodrum is the Milas-Bodrum Airport (BJV). Several domestic and international flights operate to and from this airport. If you are coming from another country, you can find direct flights or connecting flights to Bodrum. From the airport, you can take a taxi or use public transportation to reach the town centre.
🛳  Another option is to take a ferry to Bodrum if you are travelling from some Greek islands or other coastal towns nearby. There are ferry services that connect Bodrum with Kos, Rhodes, and some other Greek islands.
The Best time to Visit Bodrum
Spring in Bodrum is delightful, with temperatures ranging from around 15°C to 25°C (59°F to 77°F). The weather is warm enough to enjoy the beaches and outdoor activities, but not too hot to be uncomfortable. It's also a great time to witness the beautiful blooming flowers and lush greenery.
Avoiding the peak summer months (July and August) is advisable if you are not a fan of extremely hot weather and large crowds. During the summer, temperatures can soar well above 30°C (86°F), and the beaches and tourist attractions can get crowded.
Bodrum's climate is typically Mediterranean, so it experiences hot and dry summers and mild and rainy winters. If you don't mind cooler temperatures, you can also visit during the off-season months. In those months, the town is quieter, and accommodation prices may be more budget-friendly. However, some tourist facilities and activities may have reduced availability during the winter months.
This city offers you plenty of flavors with its abundance of olive oil and greenery. Since you've come all this way, we recommend not leaving Bodrum without tasting its famous delicacies. Some of the traditional Bodrum dishes are as follows:
Stuffed squash blossoms

Sour small fish (palamut)

Bodrum-style vegetable dish (Bodrum çökertmesi)

Sweet rice pudding (lokum pilavı)

Stuffed grey mullet (kefal dolması)

Sea purslane (deniz börülcesi)

Wild mustard greens salad (hardal otu salatası)
To enjoy a delicious ice cream in the burning yet sweet heat of Bodrum, you can visit Bitez Dondurması, and for the classic Turkish combination of raki and fish, you should definitely stop by Memedof 🍲.
Places to Visit in Bodrum
We've made a list of must-visit places in Bodrum. Yet, we should remind you that you can find more on Piri Guide mobile app. Piri Guide detects your location, offers you the best travel routes, and starts telling you the hidden stories of wherever you are. All you have to do is to get your headphones or earbuds and follow the path at your own pace. Then, don't set out for your trip before downloading the digital travel guide! 😊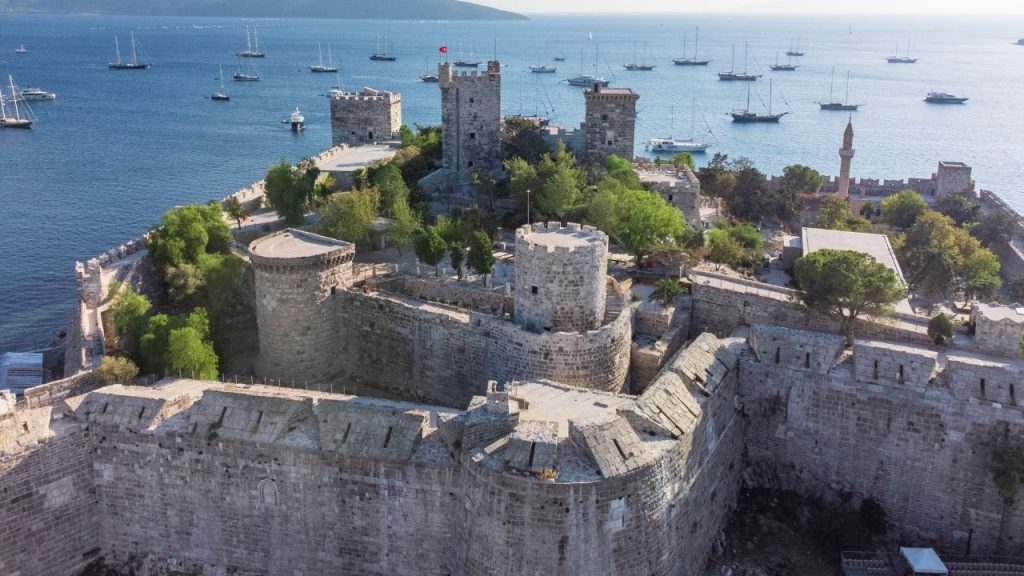 Undoubtedly, the Bodrum Castle is one of the symbols of this beautiful city. It was on a peninsula surrounded by three sides of the sea using the remains of the Mausoleum at Halicarnassus, once one of the Seven Wonders of the ancient world. It experienced destruction during an earthquake and was once located in Bodrum.
Inside the castle, there are French, Italian, English, German, and Spanish towers. Additionally, the Inner Castle, the Underwater Archaeology Museum, the section that was once a prison, and the Carian Princess Hall are among the must-see places for those visiting the castle. The museum even received the 'Special Commendation' award in the European Museum of the Year Competition in 1995.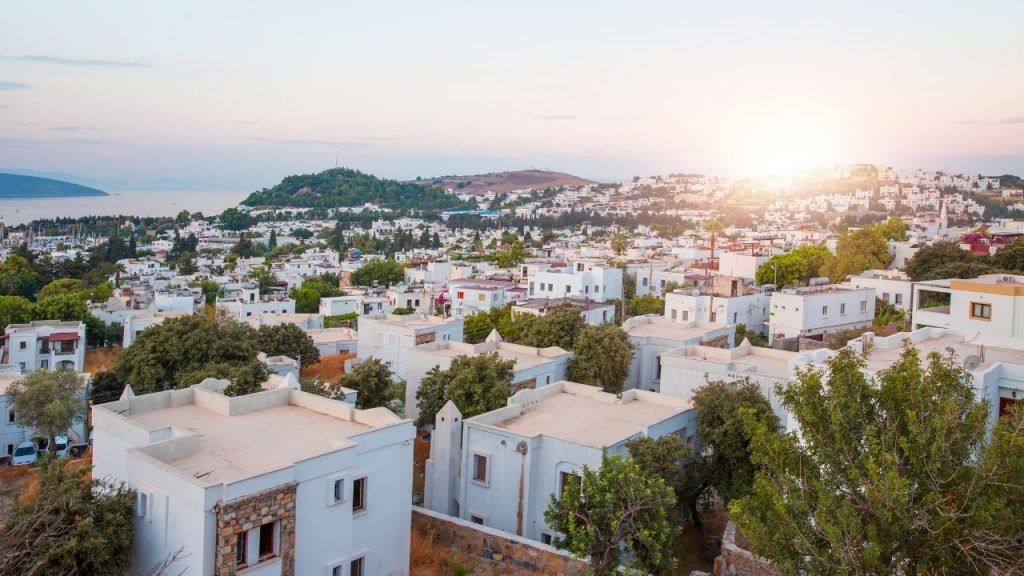 Sometimes, to truly enjoy a city, you need to get lost in its streets. 
Traditional houses in Bodrum can be categorized into three types: houses with wooden cantilevered balconies (Musandıralı), castle-like houses, and Chios-type houses. Their common feature is that they are mostly built with rubble or cut stone. The preference for stone construction is due to its ability to keep the heat outside and maintain a cool interior during summers. These houses are adorned with bougainvilleas in summer and Bodrum mandarins in winter.
The purpose of the Bodrum Maritime Museum is to show the rich maritime history of Bodrum to all visitors. Inside, you can see models of boats and ships that once sailed along the shores of Bodrum. In the past, the most common vessels found along the Bodrum coast were fishing boats, and the most famous among them were the "Bodrum gulets."