First, let's introduce you to the legendary Mozart. His full name was Wolfgang Amadeus Mozart, and he was born in the city of Salzburg, Austria, in 1756, right in the heart of the 18th century. Now, let me tell you, he was a game-changer in the world of music! With Mozart, we said hello to new terms and concepts in classical music. Honestly, we don't need fancy words to describe him because Mozart's talent spoke for itself. Even after all these years, his name is etched in our memories.
Mozart was actually discovered by his own father. He was so young, but his musical talent was beyond his years. He was one of those who learned by traveling. From the moment he was discovered, he was constantly on the move, giving concerts everywhere he went. His music was celebrated with enthusiasm in many royal courts across Europe.
Mozart: Birth of a Legend
His father was a musician just like him. It's said that one day, while his father was teaching his sister, Marie Anna, to play the harpsichord, young Mozart started taking his very first steps into the world of music by watching them. And you won't believe it, but he was just 3 years old when he started playing the harpsichord himself! Naturally, his talent was quickly noticed. Mozart's father, Leopold Mozart, decided to showcase his son's talent and broaden his horizons by taking him to different cities across Europe. And that's how our little Mozart gave his first concert in Munich in the year 1762. We're talking about a young artist who was only 6 years old at the time!
From such a young age, and as the years rolled on, Mozart performed concerts in many European cities like Vienna, Paris, London, and Amsterdam. He even composed his first symphony in London, or at least that's what we suspect! During his travels, he had the incredible opportunity to meet and collaborate with numerous famous musicians. He was always observing his surroundings, eager to learn and grow. In short, he was a sponge for knowledge! Some sources even describe him as being "like a camera, constantly recording" his experiences.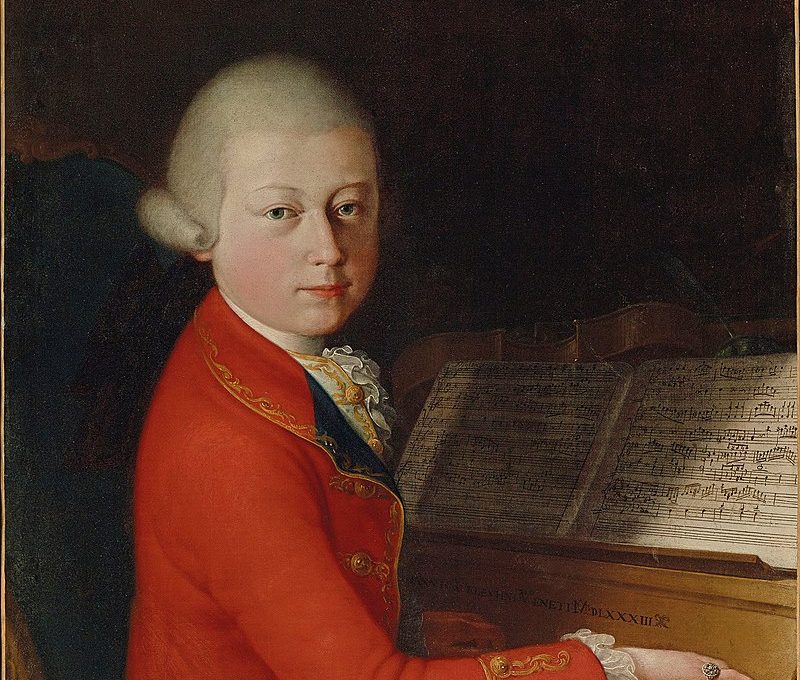 At the young age of 14 in 1770, there's a portrait of Mozart painted by the Italian artist Giambettino Cignaroli. This portrait captures a moment of young Mozart playing the piano during a concert in Italy. What makes this even more special is that the painting includes a musical composition believed to be Mozart's work. This remarkable piece of art changed hands in 2019 for a staggering 4 million Euros.
If you ever fancy exploring Italy, make sure to bring along the digital tour guide, Piri Guide mobile app!
The Piri mobile app offers you the most beautiful routes, detects your location, and automatically starts narrating the stories of the places you visit. All you have to do is put on your headphones and follow the route. Don't start your journey without downloading your personal mobile tour guide that adapts to your pace and preferences!
Who was Mozart's most significant source of inspiration, you ask?
Those who say Johann Sebastian Bach are absolutely correct! Bach is widely regarded as one of the greatest composers of all time. Mozart once referred to Bach as his source of inspiration, though whether he ever imagined himself becoming as great a composer is a mystery. After all, both Bach and Mozart are names that we now hold in the highest esteem, side by side.
Mozart and his music continue to be the cornerstone of classical art even in the 21st century. Just as Bach reached the pinnacle of Baroque music before him, Mozart did the same for his era. Moreover, Mozart blended Baroque music with the music of his time, creating a unique musical style. Some say that Baroque music died with Bach, and to some extent, that's true. Mozart ushered in the Classical Era, simplifying the ornate music of the Baroque period. It was during this same era that we saw the piano take center stage. The piano began to develop in the mid-18th century and soon became an indispensable part of orchestras.
🎶 So, how many pieces of music do you think Mozart composed?
It's believed to be over 600! He composed symphonies, operas, solo concertos, chamber orchestras, and many more types of works. When it comes to piano sonatas, it's safe to say that Mozart not only mastered them but also elevated them to new heights.
December 5, 1791…
When the calendars showed this date, Mozart, at the tender age of 35, had bid farewell to life in his home in Vienna. A Berlin newspaper once claimed that the artist had been poisoned. However, it was later revealed that Mozart had succumbed to a throat infection and the accompanying illnesses it brought.
After his passing, Beethoven emerged on the scene. Mozart and Beethoven's paths crossed in 1787, but whether the two ever met face to face remains a mystery. What we do know for sure is that Mozart left an indelible mark on the young Beethoven.
If you're curious about classical art and want to explore beyond classical music, we invite you to check out our article, "5 Classical Artists You Absolutely Must Know!" 🎨✨ We've got a world of beauty waiting for you in the realm of visual arts!